Nature and conservation is woven into all levels of the Cub Scout program. One of the things we teach our young Scouts is that they should understand and respect the world around them.
So there are lots of ways for you to work a nature theme into your den or pack program. A few ideas for this theme are listed below, and more will gradually be added.
Organize a pack meeting or den meeting around them. Or plan an overall theme for your Cub Scout year and add an element or two from the theme into your program each month.
Eraser Prints of Animal Tracks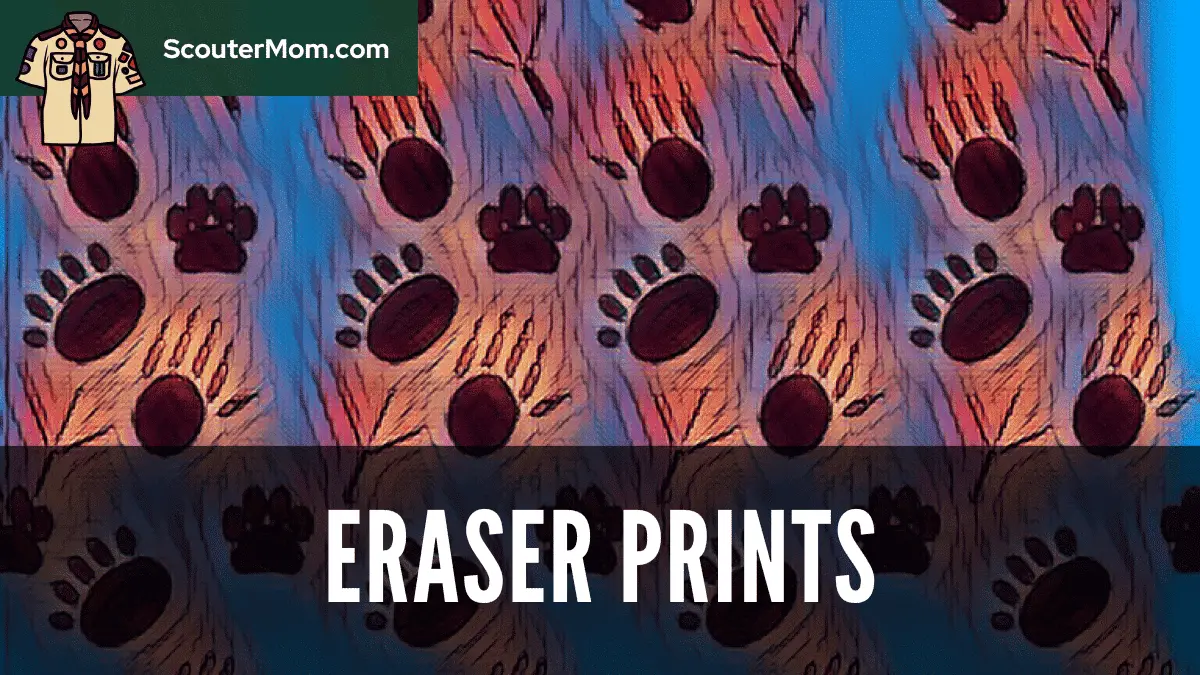 I received an email from a Scouter Mom who was doing a nature station at a camp and wanted information about making eraser prints of animal tracks. Here is some information about it in case anyone else wants to do this.
The Little Green Frog Song
This is a fun song to do with a Cub Scout pack or den. It is full of boy humor. Make sure you get the parents to sing along also. That makes it really fun for the youth.
Egg Carton Caterpillar
Here is a fun way to use up some of those egg cartons left over from the Easter eggs. This egg carton caterpillar craft would make a nice gathering activity for a den meeting.
Finding Out About Endangered Species in Your Area
Conservation and Scouting go hand in hand. Since getting outdoors is a big part of the Cub Scout and Scouts BSA programs, it makes sense that we should teach Scouts about protecting our natural resources.
Edible Spiders Recipe
A snack made with crackers and pretzels. This recipe does not require any cooking, so it can be made at a meeting even if you don't have access to a kitchen.
Earth Treats Recipe
In honor of Earth Day, here are earth treats as an Earth themed snack. Basically these are rice krispie treats shaped like the earth. You can make small "earths" or larger ones, but it seems to set better if you don't make them too big.
Flip the Bird Tag
Flip the Bird tag is an active game which is a combination of tag and keep away. In it, a players work together to keep their friends from being tagged.
My Turtle Swims Sideways
ZM sang this My Turtle Swims Sideways song at Webelos camp and LC sang it at Scout camp and they've continued singing it since. This song is just humor. (This is one of the most commented upon posts on my blog!)
Caterpillar Race Game
The Caterpillar Race game is a fun active game for younger children.. They will have to work together to match their movements, so it teaches them teamwork and coordination
Leaf Print Craft
Nature crafts are good scout activities for several reasons. First, you can get the kids outside to collect the supplies. While they are there, they can look around and really see the outdoors. Second, they are usually inexpensive. And third, I just like the way natural stuff looks.
Native American Prayer
Native American lore is an important part of the Scouts BSA and Cub Scout programs. This Native American prayer is attributed to Chief Sealth (for whom Seattle is named).
Ticks on a Toilet Seat Recipe
What's the best way to get a picky eater to have a healthy snack? Make it funny! Cub Scouts will enjoy this Ticks on a Toilet Seat recipe.
Make a Soda Bottle Terrarium
Making a soda bottle terrarium is a great springtime activity. Plus - it reuses a plastic soda bottle, which is great for starting a discussion about Earth Day approaching.
Seed Mosaics Craft
Here's a spring craft idea for all of you Tiger leaders. Have the scouts make seed mosaics to give to mom for Mother's Day.
Soil Sample Cupcakes Recipe
Scouts always enjoy playing with their food! These Soil Sample Cupcakes would make a nice snack for any den meeting based on one of the ecology lessons.
We are sorry that this post was not useful for you!
Let us improve this post!
Tell us how we can improve this post?