Gathering activities are just program ideas for the Scouts to do while they are waiting for the meeting to start. These can be games, puzzles, crafts, or anything which only takes a few minutes.
Do you have a gathering activity that you'd like to share? Contact me and I'll share it here.
Craft Stick Pencil Holders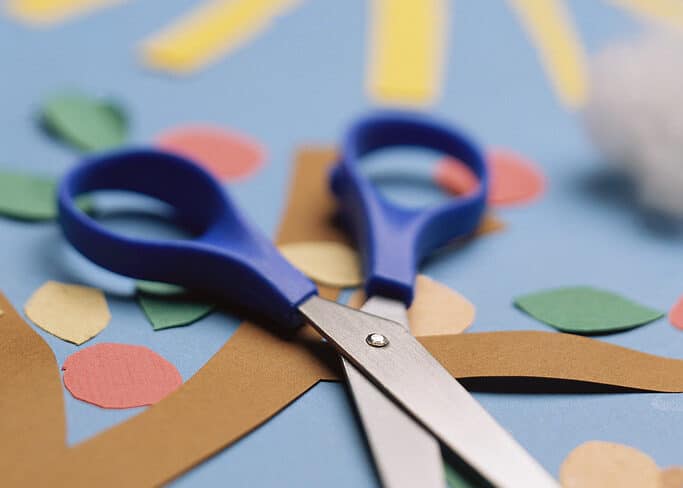 Now that school is starting up again, Cub Scouts might enjoy making craft stick pencil holders to keep some of their school supplies in. Or they can give it to somebody else as a gift. This craft is very easy.
Donut Snowmen Craft/Recipe
Today's Winter Wonderland idea for Cub Scouts is both a craft and a snack. Make donut snowmen out of powdered sugar donuts, some pretzels, and a few other easy to find ingredients.
State Capitals Bingo Cards
One theme for teaching citizenship is the Fifty Great States theme. State capitals bingo would be a fun game or gathering activity to go with this theme. You can play this game with states or capitals on the bingo cards or the call cards. You can choose which combination of bingo cards and call cards you would like to use.
Halloween Bingo Cards
If you are looking for a fun gathering activity for a den meeting or pack meeting around Halloween time, try these Halloween Picture Bingo Cards.
Egg Carton Caterpillar
Here is a fun way to use up some of those egg cartons left over from the Easter eggs. This egg carton caterpillar craft would make a nice gathering activity for a den meeting.
Cub Scout Gathering Activity – Core Values Crossword Puzzle
The 12 Core Values of Cub Scouting were replaced by the 12 points of the Scout Law a few years ago. But that doesn't mean we can't still use the core values as examples of good values. So use this crossword puzzle as a gathering activity at any meeting where values are the focus.
Clock Neckerchief Slide
Cub Scouts can make this simple neckerchief on their own. Use it as a gathering activity with the Turn Back the Clock theme.
Caption Contest Gathering Activity
An idea for your gathering activities for photography or camera themes is to have a caption contest with some silly or unusual photos. . This can also be used just for laughs.
Scouts BSA Basics Crossword for Webelos and Scouts
A crossword puzzle for Webelos working on their Arrow of Light award or for new Scouts BSA who are working toward their Scout rank. This puzzle has clues from the Scout oath, law, motto, and slogan.
Cub Scout Law of the Pack Letter Tile Puzzle
Cub Scouts should know the Law of the Pack, but unless they are reciting it all of the time, they aren't going to remember it. This puzzle will help reinforce the Law of the Pack.
Pool Tote Craft
If you are looking for a craft for your pack pool party or aquatics themed meeting, you could let the Scouts decorate their own pool totes. Then they can carry all of their squishy balls, goggles, dive sticks, and other pool accessories themselves.
Chess Terminology Scramble Puzzle
Earlier this month, I wrote about basic chess terms. So today I am presenting a word scramble puzzle to reinforce the meanings of some of those terms.
Soccer Drill – Soccer Croquet
This month I am featuring a soccer theme for Cub Scouts. A soccer drill can make a fun gathering activity or an end of the meeting game for a soccer themed meeting. This drill emphasizes teamwork, dribbling skills, and passing accuracy.
Faith and Our Ancestors Game
The Faith and Our Ancestors Game is an icebreaker activity with a genealogy twist. Players ask each other questions about how they think their ancestors lived.
Picture Telephone Game
Picture Telephone game is a visual version of the classic telephone game. Our Crew recently played this during the Communication section of the Introduction to Leadership Skills for Crews course.
Paper Bag Puppets
A den leader asked me recently about ideas for gathering activities. I suggested paper bag puppets.
Cub Scout Trading Cards
With baseball season right around the corner, let your Cub Scouts make their own trading cards with "Cub Scout stats". This Cub Scout craft works great with any sports themed den or pack meeting.
When I Was Young Gathering Activity
"When I Was Young" can be used as one of the gathering activities for any meeting centered around a history theme or a photography or cinema theme. This also works well for a Blue and Gold banquet.
Homemade Silly Putty Recipe
Having a science themed meeting with your Scouts? Instead of a craft, make up a batch of silly putty. This stuff is stretchy and fun to play with.
Soccer Tennis
When my den meetings were immediately after school, I often did a physical activity during the gathering time. The Scouts needed to run around and burn off a little energy before they were ready to concentrate on the den activities.
Craft Stick Picture Frame
A craft stick picture frame is one of those things which 99 percent of you probably already know how to do, so I am really posting this just to remind you that things like this make a good gathering activity, especially for Tigers and Wolves.
Compliment Cards Coloring Pages
This is a gathering activity I made to go with the Planting Seeds of Kindness theme. These are blank coloring sheets for making compliment cards. The Cub Scouts can color them. Then they cut them apart and give them to people they would like to compliment.