Ceremonies are designed to focus a groups attention. They can be solemn or silly.
Do you have a ceremony you'd like to share? Contact me and I'll share it here.
Raising and Lowering the US Flag
These are some basic rules for raising and lowering the US flag. The most important rule to remember is to always treat the US flag with dignity and respect. It is the symbol of the United States of America. Remember that many men and women have given their lives defending the liberty and freedom it represents.
Shoe Advancement Ceremony
The Cub Scout core value for the month of March is compassion. The pack program helps have opening and closing ceremonies which involve shoes - for walking in another's shoes.
Kwanzaa Candle Ceremony for Cub Scouts
This ceremony relates the seven principles of Kwanzaa to the values of Cub Scouting. It goes along well with the December theme of respect also.
Thank You Ceremony
I found this ceremony in some old program helps. I thought it would go well with the Cub Scouts Give Thanks supplemental program theme for April.
Welcoming Webelos to Scouts BSA Troop
Aaron sent in this question "I am looking for ways to welcome Webelos into Scouts BSA at Pack Meetings, any ideas? Like a cross over, but not as formal."
The Flag Remembers Christmas
You need to highlight the flag during this ceremony. Put a spotlight on it or have two scouts hold it up, or something like that.
A New National Hymn for Memorial Day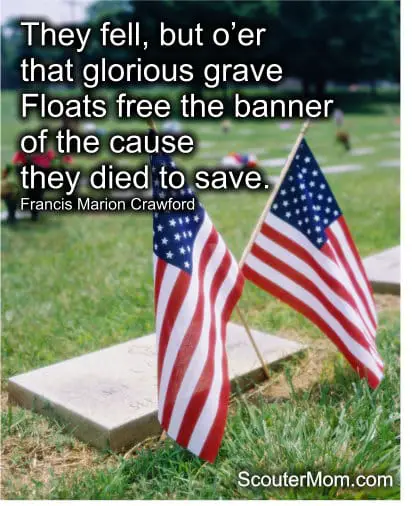 Today we honor those who paid the ultimate price for our freedom. I'd like to share this poem by American author Francis Marion Crawford with you. This would make an excellent reading for any Memorial Day ceremony.
Broken Arrow Ceremony for Scouts Joining in Webelos
Reader Beth asked "Should I do a Broken Arrow Ceremony for boys who have just come into Scouting in Webelos 1? I did one when the other boys earned the Bear in the Spring, but now I have 3 new boys."
Magic Words Ceremony
This is a ceremony from an old roundtable handout. It would fit with any meeting where Cub Scouts working on improving their manners or are learning that words matter. Use it as a closing ceremony.
Den Chief Pledge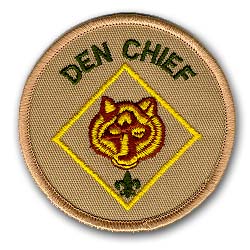 We have a new Tiger Cub den in our Cub Scout pack which does not have a Den Chief yet. So for his Scoutmaster Minute, my husband read the Den Chief Pledge and asked any of the Scouts who are interested in learning more about being a Den Chief to see him.
A Simple Flag Retirement Ceremony
When retiring a United Stated flag, some people will say that you must do it this way or that way, but according to the Flag Code, it just needs to be done with dignity.
Bobcat Ceremony for Space Derby
I recently helped put together a bobcat ceremony for our space derby. I couldn't find one I liked, so I incorporated a lot of different ideas I had found plus my own. I think it's worth sharing.
Respect Ceremony for Cub Scouts
This is a simple ceremony which can be used as an opening or a closing for a Cub Scout meeting with the theme of "Respect" which ties in with the Scout Law point of "Courteous".