Scouts learn how to handle a variety of emergency situations while working on the First Aid merit badge: shock, heart attack, cuts, broken bones, hypothermia, bee stings, heatstroke, convulsions, dehydration, pains, cramps, and more. They learn to "be prepared" for many types of illnesses and injuries.
The First Aid merit badge is required for the rank of Eagle Scout.
Get the First Aid Merit Badge pamphlet
Printable helps for requirements:
Printable requirements for First Aid Merit Badge

Printable checkoff sheet for First Aid Merit Badge

Printable note sheet for First Aid Merit Badge
Printable checkoff sheet for all Scouts BSA merit badges
Be prepared for all types of first aid situations with these ideas and related achievements:
First Aid Baseball Game for Scouts BSA and Webelos
First aid baseball is a fun way to review first aid skills with Scouts BSA and Webelos. There are instructions for the game and a set of question cards included in the printable file.
Fake Wounds for First Aid Demonstrations
If your Webelos or Scouts BSA are working on first aid requirements, you can add in some fun by making a fake wound on a "victim" or two.
Powdered Sports Drink Recipe
Sports drinks like Gatorade or Power Aid are designed to replenish the water and salt your body loses when you are active or exercising. You can mix up your own powdered mix to accomplish this for a fraction of the cost of purchasing these drinks by the bottle.
Emergency Preparedness Troop Program Feature for Scouts BSA
The Emergency Preparedness feature teaches Scouts how to develop the first aid and leadership skills needed to deal with an emergency. Scouts learn to be prepared for accidents and natural disasters and to make informed decisions.
First Aid for Tick Bites
Scouts like to get outdoors, but in many areas that brings the danger of tick bites. While most tick bites won't cause more than minor irritation, if treated incorrectly complications can occur.
First Aid Program Feature for Scouts BSA Troops
The focus of the First Aid troop program feature is learning to assess an emergency and practical first aid skills.
Avoiding Hypothermia During Cold Weather Activities
Avoiding hypothermia is key to a successful outdoor activity in cold weather, be it camping, hiking, skiing, ice skating, or snowman building.
Hospital Tag
In this game, players pretend they are wounded and go to the hospital to get fixed up.
Emergency Preparedness BSA Award (Scouts BSA) Helps and Ideas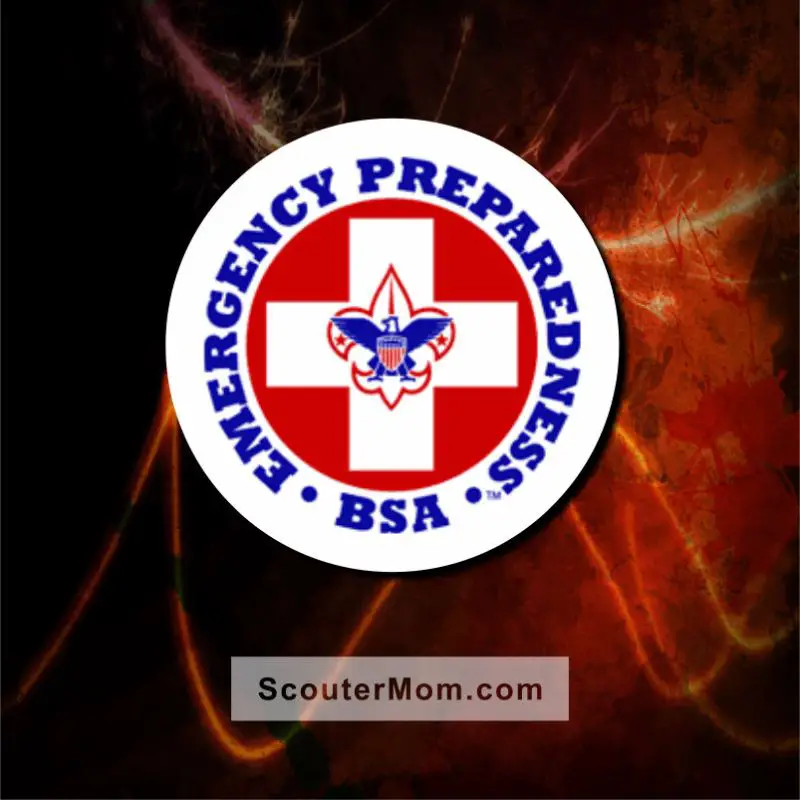 Scouts BSA can earn this award by creating an emergency plan, earning the First Aid or Emergency Preparedness merit badge, and completing an online course from the Federal Emergency Management Institute (FEMA).
First Aid Ranger Core Requirement Helps and Documents
First Aid is one of the core requirements for the Venturing Ranger award. To earn this award, a Venture must complete an American Red Cross Wilderness First Aid course or the equivalent.
First Aid Ranger Elective Helps and Documents
To complete the First Aid elective for the Venturing Ranger award, Venturers must put together a personal first aid kit and teach others how to put a kit together. They must also take an emergency first aid course, emergency response course, or EMT course.
Kims Game with Items for a Home First Aid Kit
Kim's game is a traditional Scouting game which was introduced by Sir Robert Baden-Powell. It is based on a game described by Rudyard Kipling. This version of the game helps Scouts learn what should be in a home first aid kit.
National Outdoor Badges – Camping
The National Outdoor awards recognize Scouts BSA and Varsity Scouts who really get into outdoor activities. This award recognizes Scouts who do a lot of camping and who have the skills to be comfortable and safe at camp.
Reader Interactions