Webelos learn about meal planning, budgeting, and shopping while working on the Cast Iron Chef adventure. They also prepare a nutritious meal and make a cooking fire.
Cast Iron Chef is required for the Webelos badge.
These checkoff sheets will help track your den's progress:
Printable helps for requirements:
Printable requirements for Webelos Adventure: Cast Iron Chef

Printable checkoff sheet for Webelos Adventure: Cast Iron Chef

Printable note sheet for Webelos Adventure: Cast Iron Chef
Cook up some fun with these recipes, ideas, and related requirements:
Dutch Oven Cooking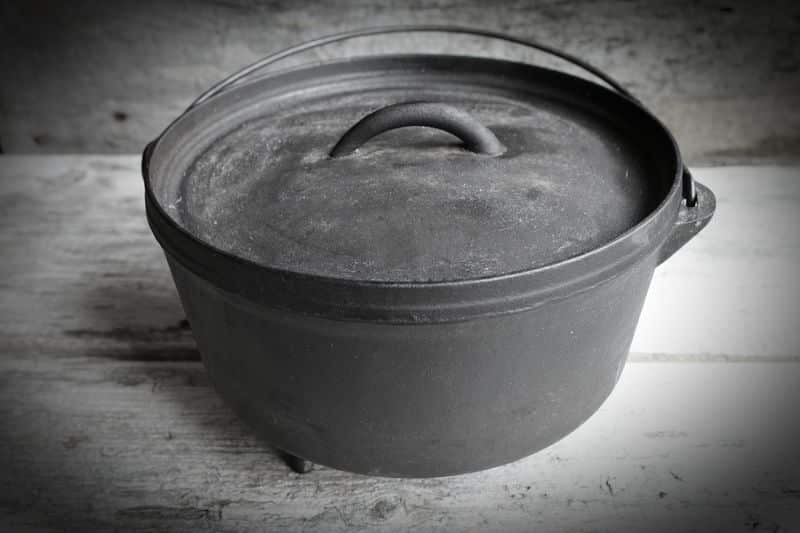 Dutch oven cooking is one of my favorite ways to make meals and desserts at camp. Put the ingredients in, put some charcoal on the top and bottom, come back later, and voila! you have a delicious dish. Do you have a Dutch oven recipe you'd like to share? Contact me and I'll share it.
Foil Pack Dinners
The most typical foil pack ingredients are ground beef, potatoes, carrots, and onions. But don't get stuck in a rut! Try some new combinations.
Recipes for Cubs in the Kitchen
Cub Scouts love to cook. There are several Cub Scout adventures related to cooking. And even if you aren't working on an adventure, helping to prepare a healthy and fun snack or meal promotes independence. And it might also encourage a Cub Scout to try something new.
Webelos and Arrow of Light (AOL) Cub Scout Helps and Documents
Webelos is the Cub Scout program for girls and boys in 4th and 5th grades. 4th graders work on the Webelos badge. 5th graders work on the Arrow of Light emblem.
Cooking on a Stick
The easiest method of cooking at camp might be cooking on a stick. No muss. No fuss. No cleanup. 🙂 So here are a few recipes and ideas for cooking on a stick Do you have a cooking on a stick recipe you'd like to share or a photo? Contact me and I'll add it here.
Plant a Pizza Garden
Spring is in the air! Get your Scouts out gardening. One way to get them interested in playing in the dirt and in healthy eating habits is to plant a pizza garden. They might be more willing to try different fresh foods if they harvest them from plants they tended.
Dutch Oven Breakfast Quiche
This Dutch oven breakfast quiche is an easy camp breakfast recipe for those who enjoy some eggs in the morning. I really enjoy Dutch oven recipes at camp because you can put all of your ingredients in and relax while it cooks. And relaxing and enjoying the moment is part of what really makes camping great.
Mountain Man Breakfast Casserole Recipe
Mountain Man Breakfast Casserole is a hearty breakfast recipe with meat, eggs, and hashbrowns. This recipe includes instructions for cooking outdoors with charcoal and indoors in an oven.
The Science of Fire – The Fire Triangle
Knowledge of fire safety and the fire triangle is an essential outdoor skill. Scouts should understand the science of fire when camping.  Newer scouts often struggle to get a fire going. Understanding the way fire works and what is required to start and sustain a fire not only helps them build fires. It also helps scouts know how to contain fires and put them out.
Fire Safety with Cub Scouts
I like to review some fire safety rules with my Webelos before the fire is built. That way they all know the expectations.
Menu Planning with Webelos
My Webelos den is going to district camporee at the end of the month. So at last night's camping focused meeting, we did some menu planning.
What Is a Fuzz Stick and How Do You Make One?
A fuzz stick is a fire starting aid and a good way to practice knife skills. A fuzz stick is a stick which has been shaved on the side, leaving thin scraps of wood. These scraps catch fire easily, which helps get your fire going.
Edible Campfires Recipe
Scouts should know how to build a fire. I am always amazed how many kids don't understand the concept of using tinder and small sticks. This snack will help introduce the concept.
How to Build a Fire Skit
Skits can be a great way to start an instruction program. They get everyone's attention focused. I saw this How to Build a Fire skit at a camporee, but it would also work as an introduction to a session on fire building
We are sorry that this post was not useful for you!
Let us improve this post!
Tell us how we can improve this post?
Reader Interactions