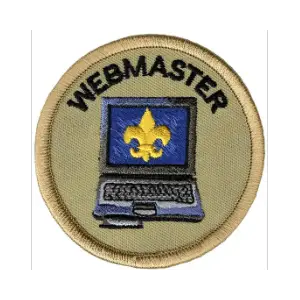 About the Webmaster Position
The Webmaster is a youth leadership position within a Scouts BSA troop. They are responsible for managing the troop's website and online presence. The Webmaster plays a crucial role in helping to ensure that the troop is effectively communicating with its members and the broader community.
One of the key responsibilities of the Webmaster is to manage the troop's website and online presence. This includes updating the website with information about troop activities and events, creating and managing social media accounts for the troop, and ensuring that the troop's online presence is professional and engaging.
Another important role of the Webmaster is to work with other troop leaders to coordinate online activities and communications. This includes working with the Troop Committee Chair to ensure that the website and social media accounts are updated with the latest information, as well as collaborating with the Public Relations Chair to develop and implement effective communication strategies.
When managing the troop's website and online presence, it is important to be mindful of the personal information that is shared. This includes names, addresses, and other identifying information that could be used to harm or exploit troop members. It is important to respect the privacy of all troop members and to only share information that has been approved by the Troop Committee Chair or other designated leaders.
Along with the online safety considerations, the Webmaster also has a responsibility to maintain proper online etiquette. They should demonstrate a strong commitment to the values of Scouting and lead by example, adhering to the Scout Oath and Law. This includes promoting respect, kindness, and honesty in all online interactions, as well as demonstrating a strong commitment to service and community. By doing so, the Webmaster can foster a positive online environment that reflects the values of Scouting and promotes a sense of unity and support within the troop.
The description below represents an example of the requirements and expectations for this position in one troop. Specifics can vary from one troop to another.
The printable copy also includes a self evaluation form for the position on the second page. Youth leaders might benefit from self evaluating during their term. If you use this, then keep it positive with them. It should only be used to help them recognize areas they should be working on.
Webmaster Qualifications and Duties
This is just an example. Adjust as needed to meet the size, customs, and needs of your unit.
Qualifications:
Appointed by Senior Patrol Leader and Assistant Senior Patrol Leader with Scoutmaster approval
Tenderfoot Rank or higher (not a BSA requirement)
Current Cyber Chip (not a BSA requirement)
Reports to: The Assistant Senior Patrol Leader
Trained by: Assistant Senior Patrol Leader with assistance from the Assistant Scoutmaster for Older Scouts
May not serve three consecutive terms
Troop Webmaster duties:
Maintain the troop website.
Collect articles and information from youth leadership and others in the troop.
Participate in outings. Attendance expectation 50%
Attend troop meetings. Attendance expectation 80%
Set a good example.
Wear the field uniform (class A) correctly to all regular troop meetings and religious services.
Wear the activity uniform (class B t-shirt) to all outings and other troop activities.
Live by the Scout Oath and Law.
Show Scout spirit.
Frequently Asked Questions