Scouting and camping go hand in hand. By camping, Scouts learn to think ahead, use their resources wisely, and rely on each other. And they have plenty of fun and adventure along the way!
Camping Packing List
One thing new scouts (and new leaders) often ask the first few times they go camping is "What do I need to bring?" This camping packing list will help. Download a suggested list of personal camping gear.
Cooking on a Stick
The easiest method of cooking at camp might be cooking on a stick. No muss. No fuss. No cleanup. 🙂 So here are a few recipes and ideas for cooking on a stick Do you have a cooking on a stick recipe you'd like to share or a photo? Contact me and I'll add it here.
Camping In Instead of Camping Out
We didn't expect a tremendous turnout for January tent camping, but only 3 youth (2 of them my sons) and my husband signed up. So it had to be cancelled.
Backpacking Ranger Elective Helps and Documents
To complete the Backpacking elective for the Venturing Ranger award, Venturers must learn the skills needed for backpacking and take part in several treks. Then they must share their knowledge with others.
Summer Camp Recommendations
I often get emails recommending one summer camp or another. While I cannot personally visit each of these camps to review them, I'd like to give readers the opportunity to recommend camps to other Scouts and Scouters. So here is your opportunity. Just post your recommendation in the comments below.
Easy Recipes for Camp Cooking
Camp cooking can offer some challenges, but it can also be very rewarding. Many people stick to hotdogs and hamburgers at camp. But it is easy and fun to get a little more creative. So here are some recipes to put in your camping cookbook.
Weekend Campout Planning Guide
One idea we got from a parent whose older son was in a different troop was to have a campmaster for the monthly campout. Previously, about three families were pretty much rotating planning the campout. We had good participation from the other scouts, but the planning work was definitely not being shared.
Wolf Call of the Wild Adventure: Cub Scout Helps and Ideas
Call of the Wild is one of the Wolf required adventures. For this adventure, Wolves go camping, learn some Scout skills, think about being prepared for outdoor adventure, and learn about Leave No Trace.
Mosquito Netting for Summer Camp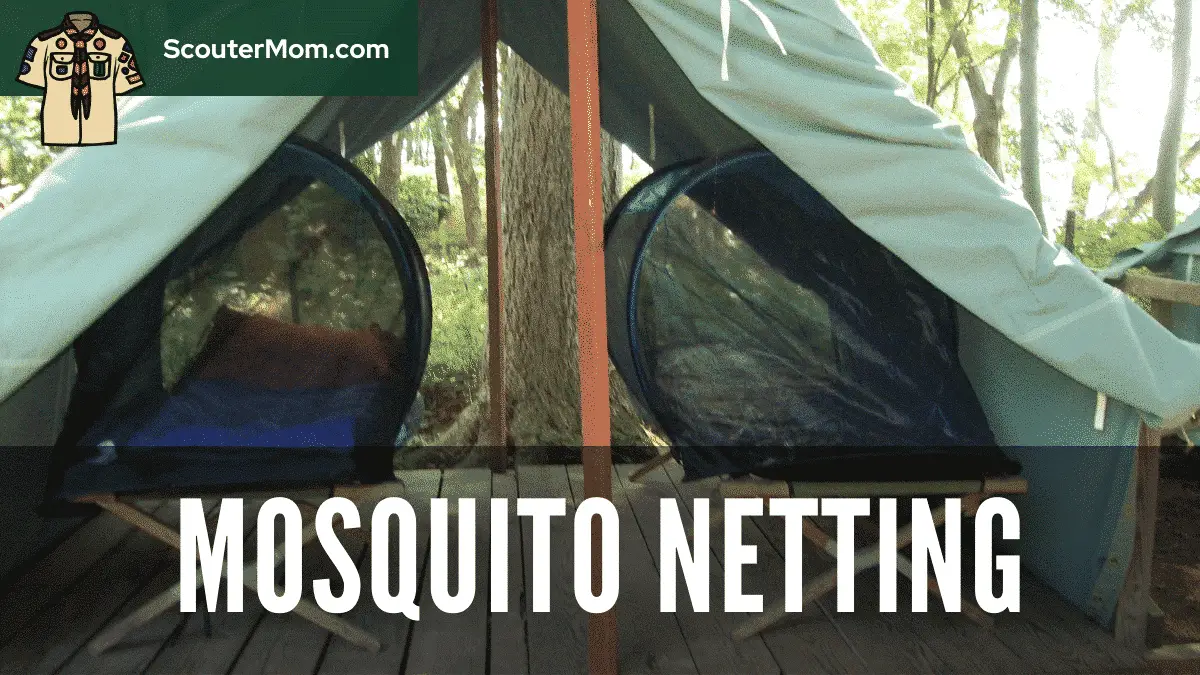 How do Scouts and Scouters survive buggy nights in open-air platform tents? The A-frame canvas tents have been used by generations of Scouts but are open to bugs and lots of other critters.
Camping Checklist for Scouts
When preparing for a campout, one of the most common questions from less experienced campers is "What should I bring?" This article from Boy's Life magazine is a good list of must haves for that campout.
Glow in the Dark Tent Rope and Stakes
I think this is a great idea. They charge during the day and they they glow in the dark at night. Not super bright, but enough that you are aware there is something there.
Arrow of Light Outdoor Adventurer: Cub Scout Helps and Ideas
Outdoor Adventurer is one of the Arrow of Light CORE Adventure Requirements. In this adventure, Webelos learn how to set up tents, how to be prepared for weather and natural disasters, and other outdoor skills such as geocaching, knot tying, the Outdoor Code, and Leave No Trace. They practice their skills on a campout.
Adult Leadership or Adult Hangout?
A reader asks about adults on campouts: "Is this allowed? 9 adults for 19 Scouts? ... I feel uncomfortable that this might turn into an adult hangout." Thanks for the question. I think the answer is ... "it depends".
Camping Log for Scouts BSA
Camping is an essential part of the Scouts BSA program and Scouts need to keep track of how much camping they have done. There is a space for this in the back of their handbook, but as a Camping merit badge counselor, I know that there are some other aspects of their campouts they need to record.
Menu Planning with Webelos
My Webelos dens always enjoyed camping at district camporees. At a den meeting before our campout, we did menu planning.
Gift for Webelos to Scout Crossover
A reader is looking for suggestions for a gift to give her son for crossover. Several Scouters gave some great ideas for gifts for Webelos who are crossing over to Scouts BSA.
Spending a Night in the Woods Alone
A reader asks about a Scout spending the night in the woods alone. He was wondering if this was done as part of the Wilderness Survival merit badge.
10 Outdoor Essentials for Cub Scouts
Even during seasons when it is too cold for the Cub Scouts to get out tent camping, we can still get them outdoors on a day hike. Make sure your Cub Scouts know the 10 Outdoor Essentials.
Scout Camp Care Package Ideas
Are you sending your son or daughter to Scout camp? If so, you can send a little care package to help remind your youngster that you are thinking of him or her. Here are some Scout camp care package ideas.
Leave No Trace Frontcountry Guidelines
Leave No Trace is an outdoor ethics program which encourages responsible use of outdoor resources. The frontcountry guidelines are the guidelines for day-use areas like parks and trails.
National Outdoor Badges – Camping
The National Outdoor awards recognize Scouts BSA and Varsity Scouts who really get into outdoor activities. This award recognizes Scouts who do a lot of camping and who have the skills to be comfortable and safe at camp.
Patrol Planner for Campouts
The hope is that after a few months, this will provide some consistency so that our youth leaders will do more planning and delegating without as much adult intervention. I think if we provide them with some help and training and they try it, they will see that the patrol method really does provide a way for everyone to share in the duties and makes planning campouts easier.
Dutch Oven Cooking: Tips and Recipes
Dutch oven cooking is one of my favorite ways to make meals and desserts at camp. Put the ingredients in, put some charcoal on the top and bottom, come back later, and voila! you have a delicious dish. Do you have a Dutch oven recipe you'd like to share? Contact me and I'll share it.
The Twelve Days of Camping Song
The Twelve Days of Camping is another silly song for you. This works well at Christmas (because of the tune) or at camp (because of the theme).
We are sorry that this post was not useful for you!
Let us improve this post!
Tell us how we can improve this post?