BSA has created updated versions of the Troop Program features for Scouts BSA. The Emergency Preparedness program feature is available in digital format on the BSA website or can be purchased as a publication from you local Scout Shop.
The Emergency Preparedness feature teaches Scouts how to develop the first aid and leadership skills needed to deal with an emergency. Scouts learn to be prepared for accidents and natural disasters and to make informed decisions. The program feature includes some general information and some more specific ideas for meetings:
How communities prepare for emergencies
The five aspects of emergency preparedness : preparedness, response, recovery, mitigation, and prevention
Preparation for disasters
How to conduct a lost-person search
Suggested troop meeting ideas are grouped by essential, challenging, or advanced. Here are a few you can see in the guide.
Review how to escape a burning building (essential)
Troop mobilization techniques (challenging)
Learn about emergency preparedness in the community (advanced)
Role play 911 calls (essential)
Review CPR (essential)
Learn about crowd control (challenging)
Work on lost-person techniques (advanced)
Safety after a disaster (essential)
Search and rescue scenarios (challenging)
How to cope with emotional trauma (advanced)
Inspect homes for hazards (essential)
Make emergency kits (challenging)
Presentation by a member of a community response team (advanced)
There are also several games suggested to keep things interesting at your troop meetings.
Bandage Relay
First Aid Carry Relay
Stretcher Relay
Lost-Person Search
The plan even provides Scoutmaster's minutes and ceremonies for meetings.
Then there is the "Main Event". Once again, there are suggestions for essential, challenging, or advanced. Details and planning aids can be found in the online guide.
Visit an emergency response team location (essential)
Run emergency response scenarios (challenging)
Participate in a community disaster drill (advanced)
Find some related helps and achievements for the Emergency Preparedness Troop Program Feature below.
Program Planning for Scouts BSA
The Scoutmaster, Senior Patrol Leader, and Assistant Senior Patrol Leader work together to develop long term plans for a Scouts BSA Troop. One thing which can help with this is the BSA troop program features.
Fake Wounds for First Aid Demonstrations
If your Webelos or Scouts BSA are working on first aid requirements, you can add in some fun by making a fake wound on a "victim" or two.
Emergency Preparedness Merit Badge Helps and Documents
Scouts learn how to "Be Prepared" while working on the Emergency Preparedness merit badge. They learn how to deal with situations like fires, automobile crashes, natural disasters, home emergencies, water safety, and more. They learn about community readiness plans for emergencies and explore the many careers related to emergency preparedness.
Wilderness Survival Merit Badge Helps and Documents
Scouts working on the Wilderness Survival merit badge learn to anticipate and avoid the hazards involved in backcountry adventures. They put together a first aid kit and build a natural shelter. They also learn how to treat water, be aware of weather conditions, and light a fire without matches.
First Aid Merit Badge Helps and Documents
Scouts learn how to handle a variety of emergency situations while working on the First Aid merit badge: shock, heart attack, cuts, broken bones, hypothermia, bee stings, heatstroke, convulsions, dehydration, pains, cramps, and more. They learn to "be prepared" for many types of illnesses and injuries.
Search and Rescue Merit Badge Helps and Documents
While doing the requirements for the Search and Rescue merit badge, Scouts learn to safely participate in a SAR mission. They familiarize themselves with the terminology involved and the command structure. Scouts explore the differences between wilderness, urban, and water search and rescue missions. They investigate career opportunities related to SAR activities.
Emergency Preparedness BSA Award (Scouts BSA) Helps and Ideas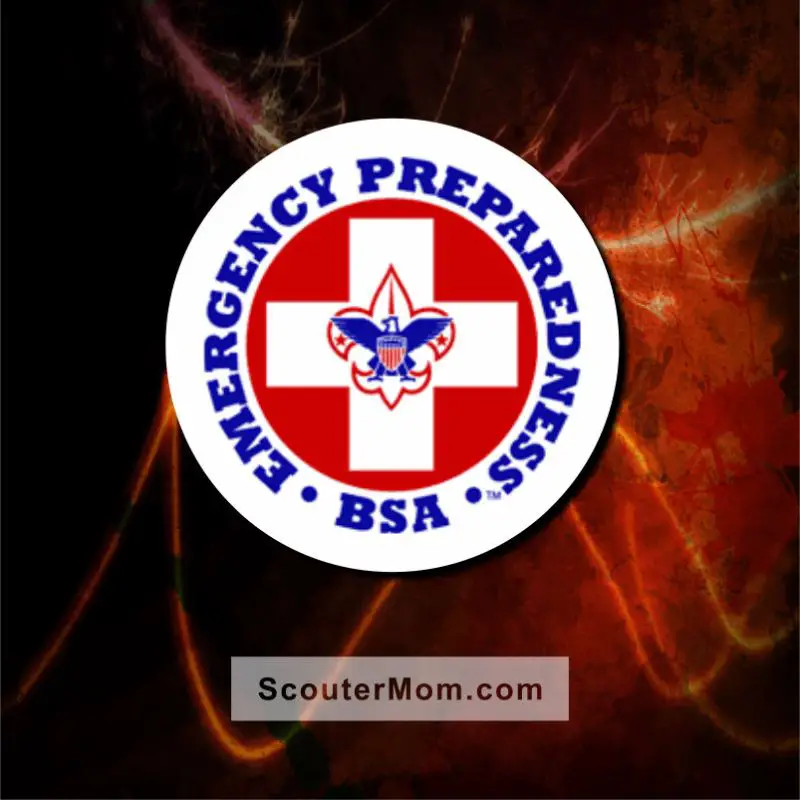 Scouts BSA can earn this award by creating an emergency plan, earning the First Aid or Emergency Preparedness merit badge, and completing an online course from the Federal Emergency Management Institute (FEMA).
National Outdoor Awards – Adventure Segment Requirements
To complete the requirements for the National Outdoor Award Adventure Segment, a Scout or Venturer must learn to be prepared during outdoor adventures. He or she must also complete a challenging backpacking, paddling, sailing, climbing, or other high-adventure activity. See the specifics , along with some related helps and awards.
Reader Interactions