Scouts learn to appreciate and protect the natural world. By spending time learning about nature Scouts become aware of man's impact on the environment. They learn to protect the world so that they and others can enjoy it.
The Outdoor Code
Every Scout who is spending time outdoors should be familiar with the Outdoor Code. It is especially important for Webelos, Scouts BSA, and Venturers who are out camping regularly.
Good Manners Napkins
Do you ever feel like you are repeating yourself when you are teaching your kids table manners? Your Cub Scouts can make Good Manners napkins for their holiday table or even for everyday family dinners.
Splash! Scouts BSA Nova Award (Science) Helps and Documents
Splash! is the Scouts BSA Nova Award for investigating water science. To earn this award, Scouts must complete one of their science related merit badges and learn about related topics such as pollution, health, water cycle, and waste treatment. Scouts also learn how water is processed and consumed.
Bear Paws for Action Adventure: Cub Scout Helps and Ideas
Paws for Action is one of the Bear required adventures. For this adventure, Bears learn about history, law enforcement, and conservation.
Nova Wild! and the World Conservation Award
A reader asks "My cubs earned the Cub Scout World Conservation Award as Bears. In June we will be Webelos and part of our den program this year is to offer the Nova Wild program. Do they need to earn the CS World Conservation Award again or can the award they have earned be applied to this Nova program? We have not applied the Conservation Award to any other Nova Programs." Add your comments.
Outdoor Ethics Awareness Award
Scouts of all ages are guided by the Outdoor Code and the principles of Leave No Trace when they participate in outdoor activities. Members of Scouts BSA, Venturers, and adult Scouters can earn the Outdoor Ethics Awareness award to learn about being responsible citizens while outdoors.
Nature Cub Scout Theme
Nature and conservation is woven into all levels of the Cub Scout program. One of the things we teach our young Scouts is that they should understand and respect the world around them. So there are lots of ways for you to work a nature theme into your den or pack program. The ideas below will help you get started.
Wade! Venturing Nova Award (Water and Science) Helps and Documents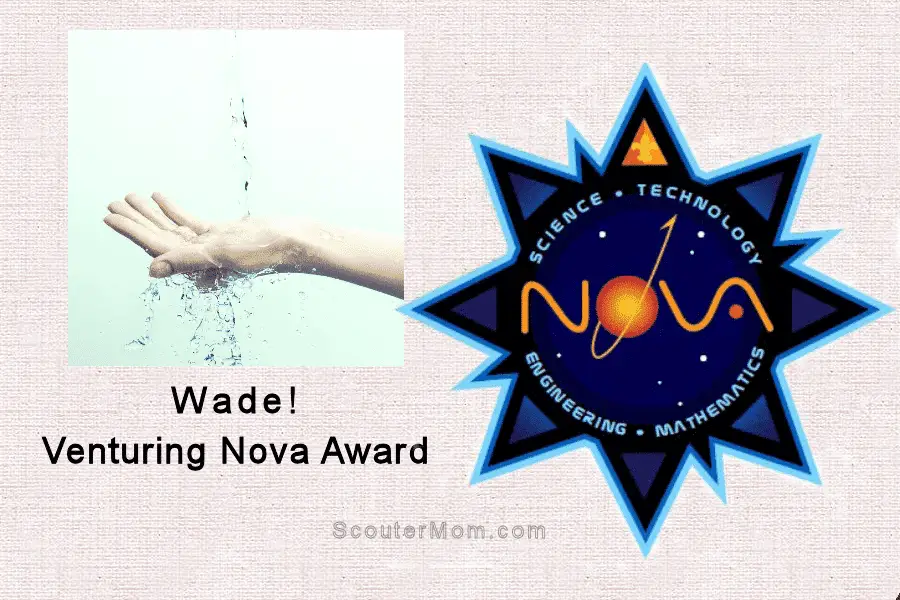 Wade! is the Venturing Nova Award for investigating water and science. To earn this award, Venturers must complete an earth science related exploration and learn about topics such as the water cycle, pollution, waste treatment, and water quality. Venturers also research a water related disaster.
Plants and Wildlife Ranger Elective Helps and Documents
To earn the Plants and Wildlife elective for the Venturing Ranger award, Venturers must learn about the balance of nature, study specific species, learn about conservation, and teach others about the subject.
Cleanup Treasure Hunt
If you are looking for a little outdoor service project for Cub Scouts, try doing a Cleanup Treasure Hunt for your chartered organization, local park, a small business, or the like.
Cub Scout World Conservation Award: Helps and Ideas
The Cub Scout World Conservation Award may be earned by Wolves, Bears, or Webelos (including Webelos working on Arrow of Light). They earn the award by working on their rank appropriate conservation and nature adventures. They must also participate in a conservation project.
Leave No Trace Frontcountry Guidelines
Leave No Trace is an outdoor ethics program which encourages responsible use of outdoor resources. The frontcountry guidelines are the guidelines for day-use areas like parks and trails.
Soil and Water Conservation Merit Badge Helps and Documents
Working on the Soil and Water Conservation merit badge helps Scouts learn about things like erosion, watersheds, aquifers, water pollution, and water treatment. They also learn about the importance of plants in soil and water conservation.
Venturing World Conservation Award: Helps and Ideas
Venturers working on the World Conservation Award learn to "think globally" and "act locally" while exploring the impact of humans on the environment. To earn this award, Venturers must complete the Ecology elective for the Ranger award, learn more about how events and conditions impact the environment, and teach others about the inter-connectivity between humans and the natural world.
Scouts BSA World Conservation Award: Helps and Ideas
Youth earn the Scouts BSA World Conservation Award when they earn conservation related merit badges and participate in a conservation project as part of an approved Scouting program totaling at least three hours that addresses a conservation need common to more than one country .
Native American Prayer
Native American lore is an important part of the Scouts BSA and Cub Scout programs. This Native American prayer is attributed to Chief Sealth (for whom Seattle is named).
World Wetlands Day
February 2 is World Wetlands Day every year. This is a day to raise awareness of the importance of preserving wetlands. This day is an opportunity to encourage Scouts to participate in conservation efforts.
BSA Distinguished Conservation Service Award
The BSA Distinguished Conservation Service Award recognizes youth who learn about nature and conservation and carry out significant conservation projects. The projects must make a long-term impact.
Environmental Science Crossword Puzzle
This environmental science crossword puzzle contains 19 words and definitions related to environmental science. This vocabulary is specifically needed for the Environmental Science merit badge, but it is also appropriate for any topic related to conservation.
Arrow of Light Building a Better World Adventure: Cub Scout Helps and Ideas
The requirements for the Building a Better World adventure help Webelos learn about good citizenship and good stewardship of our resources. Webelos working towards Arrow of Light will learn about the flag, become more engaged in their communities, explore energy conservation, and develop leadership skills. Here are a few ideas to help you with this achievement. and some checkoff sheets .
We are sorry that this post was not useful for you!
Let us improve this post!
Tell us how we can improve this post?