Nap on Safely Training
I hope all of you Scouters out there were able to complete your Nap on Safely training during summer camp. If not, I have listed the guidelines below.
(Yes, this is a spoof on BSA training! We were at summer camp a couple of years ago, and they did this very funny training there. I don't remember the exact steps of the training, so this is my version.)
If you really want to have some fun with this, check out these Nap On Safely Training Cards  to give to participants when they complete their training. Or print your own using the image at the bottom of this post.
Nap On Safely Training
Physical Condition: All participants should be sufficiently tired to nap.
Lookout: At least one adult should serve as a lookout during napping activities. He must awaken the nappers from their slumber when Scouts are returning to the campsite.
Area: Before engaging in any napping activities, make sure that the area is free of Scouts.
Two Deep Leadership: It is recommended that all available adults participate in napping activities. At a minimum, ensure that at least two adults are resting at all times.
Equipment: Appropriate equipment is required for napping. All nappers should have a comfortable cot or hammock. A pillow is recommended.
When you have checked your PLATE you are ready to Nap on Safely!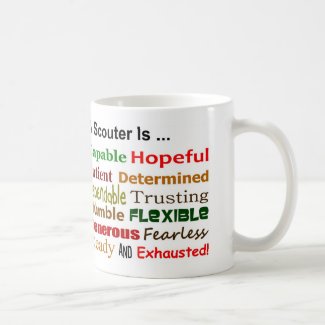 A Scouter is … coffee mug
Get this spoof on the Scout Law for your favorite Scouter!