Scouting teaches youth to learn about the outdoors and to protect our natural resources through conservation efforts. Scouts also learn to be comfortable in the outdoors and appreciate the natural world.
Eraser Prints of Animal Tracks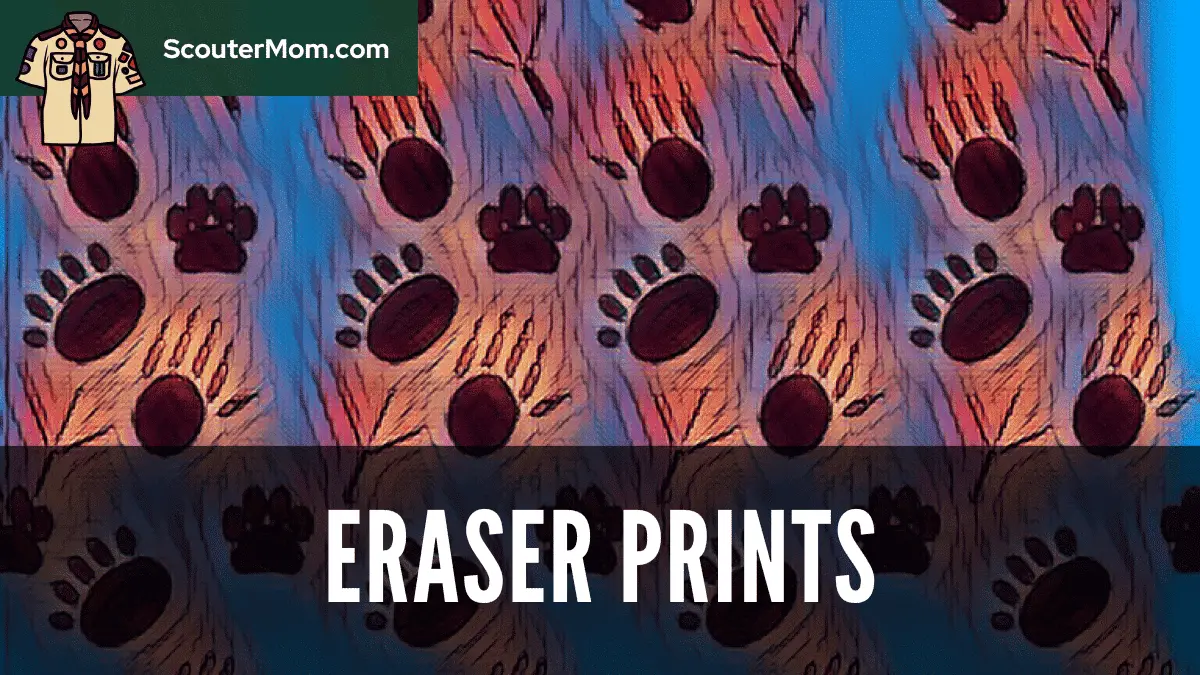 I received an email from a Scouter Mom who was doing a nature station at a camp and wanted information about making eraser prints of animal tracks. Here is some information about it in case anyone else wants to do this.
Leather Bookmark Project
A leather bookmark project is suitable for those who are new to the art of leatherwork. It is simple enough for those not familiar with leatherwork, but it includes the basics of cutting, punching, and stamping.
Finding Out About Endangered Species in Your Area
Conservation and Scouting go hand in hand. Since getting outdoors is a big part of the Cub Scout and Scouts BSA programs, it makes sense that we should teach Scouts about protecting our natural resources.
Historic Trails Program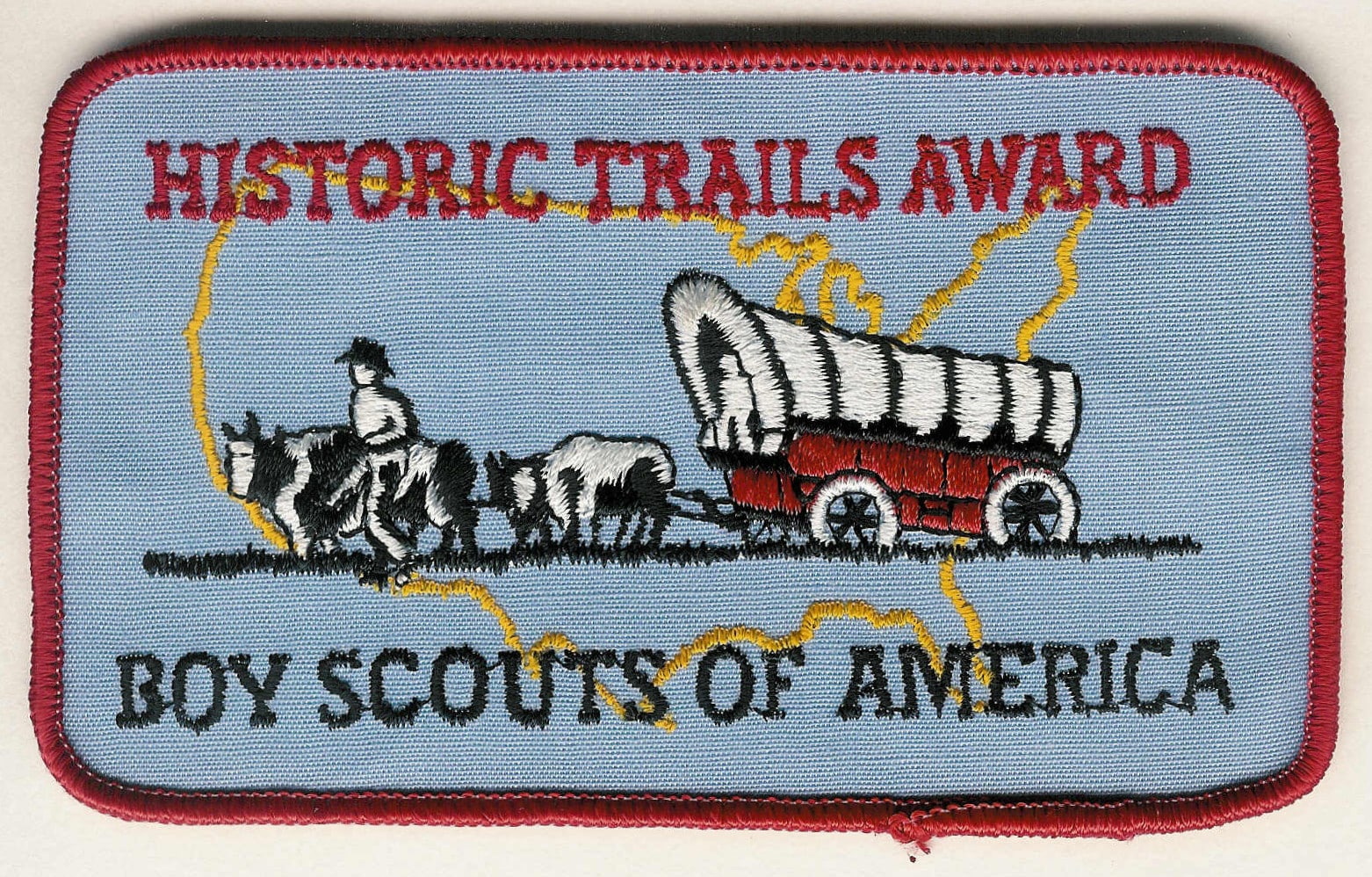 This award recognizes young men and women in Scouts BSA and Venturing who have planned and executed a historic outdoor activity in cooperation with a local society.
Spring Camporee
My Webelos had a great weekend at our district Spring Camporee. Three of my four Webelos attended. Fortunately the severe weather which had been predicted earlier for late Saturday afternoon passed to the south of us, so we did not have to bug out early. The field was wet and muddy and there was some rain, but that didn't dampen their spirits.
Crossing the Alligator Pit Game
This is a very challenging game which combines lashing skills and teamwork. It would work well for an interpatrol activity at a meeting focused on pioneering skills.
Maps, Compasses, and Declination
Scouts will be interested to learn that the north indicated by their compasses is not really true north. Instead it points to the magnetic north pole, which is not fixed. The difference between true north and magnetic north is called declination.
My Favorite Knot Book
This book was recommended a few years ago when I went to Cub Scout BALOO training. I am not a "knot person". I can watch someone do a knot and repeat it, but an hour later it is forgotten.
Wilderness Survival Ranger Core Requirement Helps and Documents
To complete the Wilderness Survival core requirement for the Venturing Ranger award, Venturers must learn and practice outdoor skills.
Wilderness Survival Troop Program Feature for Scouts BSA
The Wilderness Survival program feature helps Scouts learn how to stay safe, warm, and dry when the unexpected happens during an outdoor adventure.
Take Me Out to the Forest Song
Take Me Out to the Forest is a classic Scouting song. Sing it around the campfire, when you're out on a hike, or when you are camping.
The Versatile Frisbee
Many campers consider the frisbee an indispensable piece of gear for camp. How do you use your frisbee to improve camp life?
Finding Direction Using a Watch
For the Second Class navigation requirements, Scouts must show how to find their way at day and night without a compass. This method only requires a watch.
Planning for Summer Camp
Summer camp is the highlight of the Scout year. It takes a lot of planning beforehand to pull it off smoothly though.
Camp Programs for First Year Scouts BSA
Summer camp is usually the highlight of the Scouting year. It can be particularly exciting for first year Scouts BSA. It can also be a little intimidating. A program designed specifically for new Scouts will help them adjust to camp life.
Arrow of Light Requirements – Camping
I received this question from a reader: Hello, Is camping over night with a scout troop, a "must" for Webelos for the Arrow of Light badge? If they just participate in scout led activities during the day, is that enough? Thanks !
National Day of Unplugging
The first Friday in March is the National Day of Unplugging. So encourage Scouts to turn off those devices and go outside! Can you completely go unplugged for 24 hours? This might be a little easier for Scouts, especially if they are camping.
Poison Ivy Fact and Fiction
Summertime activities in the outdoors are great, but watch out for poison ivy. The best way to avoid problems is to avoid poison ivy.
Camp Drake – Summer Camp
A review of our troop's week of summer camp at Camp Drake in eastern Illinois, near Champaign-Urbana.
Disposing of Dishwater at Camp
Scouts should know how to dispose of water which has been used for cleaning dishes, which is also known as gray water. One easy way to strain dishwater is to use a plastic grocery bag.
Prevention and Treatment of Chafing at Camp
With all of the first aid information in the various Cub Scout and Scouts BSA handbooks, I never come across much information about the one problem we see most frequently at summer camp
What Is the Order of the Arrow?
Some of you may have Scouts BSA or Venturers in your families who are in the process of becoming members of the Order of the Arrow. Just when you thought you were getting a grasp on Scouting, they threw something new at you!
Hand Washing Station Gadget
This is a gadget which was shown to us at a recent Roundtable. It uses lashings to make a handwashing station from straight sticks and an empty gallon milk jug.
Knot Terminology
It is helpful to go over the terminology with Scouts before working on learning a knot. That way we have a common vocabulary to start with.
National Outdoor Badges Award for Hiking
I don't think anyone in our troop has come close to doing this much hiking, but we do have a group currently training for Philmont, so maybe they will make these goals.
Arrow of Light Outdoor Adventurer: Cub Scout Helps and Ideas
Outdoor Adventurer is one of the Arrow of Light CORE Adventure Requirements. In this adventure, Webelos learn how to set up tents, how to be prepared for weather and natural disasters, and other outdoor skills such as geocaching, knot tying, the Outdoor Code, and Leave No Trace. They practice their skills on a campout.
Pot and Towel Rack Camp Gadget
These instructions are for a pot and towel drying rack. There is a small picture of a similar gadget in the Scouts BSA handbook.
Camping Information Sheet for Camping Merit Badge
Depending on the scouts memories to come up with their 20 days of tent camping is always chancy, so I asked the unit leaders to have any scouts who wanted to do this at camp with me to fill out a camping information sheet and bring it to camp with them.
Water Cycle Demonstration
This is a water cycle demonstration which will add some pizazz to a meeting about weather or a Weather merit badge workshop.
Blister Treatment – First Aid
Blisters are a common injury for outdoor and physical activities. Correct blister treatment can prevent further irritation. Learn blister first aid.
Twig Picture Frame Craft
A twig picture frame craft is a DIY nature craft which can be made by Cub Scouts. This frame makes a nice gift for somebody special. It also can be used at a meeting about family heritage, to frame a family picture.
Fish and Chips and Vinegar Song
The Fish and Chips and Vinegar song fits in well with a Backyard Fun theme. It includes a reminder to keep our backyards free of trash! It would also fit in well with a conservation theme.
'Twas the Campout Before Christmas
Kim Gilbert of Pack 533 in Andover, Kansas sent me this take on 'Twas the Night Before Christmas so I could share it with you. Thanks Kim! I'm sure many of the Cub Packs out there will enjoy this.
Coed Camping with a Venturing Crew
Venturing Crews are can include young men and young women and many enjoy camping. Coed camping with a Scouting unit presents its own set of concerns and challenges
Personal Measurement Log for Orienteering
When you go on an orienteering course, you need to have some ways to measure things. Some of the methods used require you to have something of known length for comparison. A personal measurement log will help you with this.
Camping Troop Program Feature for Scouts BSA
The Camping program feature teaches Scouts helps Scouts experience the fun and adventure of camp life. Theses camping program ideas include some general information and some more specific ideas for meetings
Snapper Fishing Game – A Lashings Game
This is a traditional Scout lashings game which might date back to Baden-Powell himself. It practices Scoutcraft (lashings) as well as cooperation and problem solving.
Backpacking Troop Program Feature
This backpacking program feature offers the opportunity to learn more about hiking and low impact camping. A Scouts BSA Troop PLC can plan a whole month of activities incorporating a backpacking theme.
Sharing the Grocery Shopping Load
The Committee recommended that the patrol leaders try to convince some of the other scouts to take a turn doing the grocery shopping.
Leaf Print Craft
Nature crafts are good scout activities for several reasons. First, you can get the kids outside to collect the supplies. While they are there, they can look around and really see the outdoors. Second, they are usually inexpensive. And third, I just like the way natural stuff looks.
Camping
Scouting and camping go hand in hand. By camping, Scouts learn to think ahead, use their resources wisely, and rely on each other. And they have plenty of fun and adventure along the way!
Neckerchief Slide Bracelet
When ZM's den received their Arrow of Light award and crossed over to Scouts BSA. My den gave me a gift which included a gift certificate and this Cub Scout neckerchief slide bracelet which one of the moms made.
Boot Scraper Camp Gadget
Here is a really simple camp gadget I saw at a camporee a few years back. It was a simple boot scraper camp gadget for scraping the mud off of the bottom of the boots.
BSA Methods – The Outdoors
Being outdoors presents Scouts BSA with challenges and adventures. Youth enjoy the independence of getting away from home and taking care of themselves.
Seed Mosaics Craft
Here's a spring craft idea for all of you Tiger leaders. Have the scouts make seed mosaics to give to mom for Mother's Day.
Cub Scout Outdoor Activity Award
The Cub Scout Outdoor Activity Award recognizes Cub Scouts who have made the most of the outdoor adventures available to them. The first year the award is earned, the Cub Scout gets a pocket flap to wear on their uniform shirt. Each successive time it is earned, they get a wolf track pin to wear on the pocket flap.
Wild Weather Adventure Game
This is a weather game I came across on the NASA Space Place website. It is going to take a little time for you to print and prepare the materials, but I think this would be a hit at any weather themed scout meeting.
Winter Camp Games and Activities
Nancy sent in this question about winter camp games: "I would like ideas for a winter camp that we either play inside or outside in the snow at a cub camp with 3rd year Beavers."
Printable Water Cycle Explanation
The water cycle is an important part of any discussion of the weather. This printable water cycle explanation aid will help explain it.
We are sorry that this post was not useful for you!
Let us improve this post!
Tell us how we can improve this post?