In Scouting, youth learn how to communicate with confidence. They learn how to express their ideas through age appropriate activities and achievements.
Secret Codes: 3 Fun Codes to Try
Having a secret code can be fun. There are several simple methods of coding communication so that only those who know the "secret" know what is being said.
Tell an Old Joke Day
July 24 is Tall an Old Joke Day. Bear Cub Scouts can work on their Roaring Laughter adventure, and all Scouts can incorporate some laughs into their program.
Scheduling a Scout Board of Review
Can a troop place requirements on how a Board of Review must be requested? For example, can a troop require that the Scout request the BOR by phone rather than in person?
Skits for Campfire Programs and Other Gatherings
Every campfire program should have plenty of skits. They also make a great intermission in a meeting. Sometimes they teach a lesson, sometimes they don't, but they are always fun. What's your favorite skit? Do you have a video of it? Contact me and I'll share it here.
American Sign Language Translator
Hand Speak provides an American Sign Language Translator. Just type in a word and you will see a video of the sign for the word.
Songs for Scouts
These songs for Scouts are a fun way to add some fun to a meeting or to get everyone involved in a campfire program. What's your favorite song? Do you have the lyrics or a video of it? Contact me and I'll share it here.
Communications Ranger Core Requirement Helps and Documents
To complete the Communications core requirement for the Venturing Ranger award, Venturers must learn and practice communications skills. Then they must share their knowledge of communications with others.
Puzzles and Printables
Puzzles make learning new concepts more fun. They are also a good way to reinforce ideas which Scouts might be starting to forget. Have you created a puzzle or printable which you would like to share? Contact me and I'll share it here.
Interpreter Strips Requirements and Helps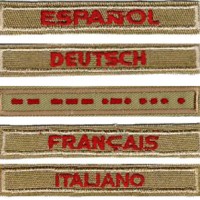 An interpreter strip shows which languages a Scout is familiar with. It is worn above the "Boy Scouts of America" strip on the uniform. This emblem can be worn by Cub Scouts, Boy Scouts, Venturers, or adults.
Wolf Howling at the Moon Adventure: Helps and Ideas
Howling at the Moon is one of the Wolf required adventures. For this adventure, Wolves practice their communication skills by creating a skit and performing it at a pack campfire program.
Sleeping Guard Game
Sleeping Guard game is a fun game for a den. The object of the game is for the Scouts to be quiet enough to sneak up on a blindfolded guard and steal an object. Perfect for a bunch of noisy Cub Scouts!
The Parts of a Map Lesson
This short video from Leap Frog shows the different parts of a map including the compass rose, legend, and scale. It describes how these parts are used to read the map.
Introduction to Youth Leadership Skills (ILSC or ILST)
This weekend our Venturing Crew did the Introduction to Youth Leadership Skills for Crews (ILSC). This course teaches Crew members basic leadership skills. There is a corresponding course for Scouts BSA Troops (ILST).
Doctor Seuss Day
Dr. Seuss Day is a day to celebrate the birthday of Theodor Seuss Geisel, the wonderful books he wrote, and reading in general.
Picture Telephone Game
Picture Telephone game is a visual version of the classic telephone game. Youth will enjoy looking at the pictures and phrases later and seeing how far off they were from the original message.
Tips for a Great Table Top Display
Table top displays are a way to show off a hobby, collection, event, or other project. Or you can showcase your unit's program. As part of the Hobbies Troop Program Feature for Scouts BSA, table top displays are used in a hobby fair to show of each Scout's particular hobby. In addition, for several of the Venturing awards, Venturers must create a table top display.
Communication Program Feature for Scouts BSA Troops
BSA has a set of troop programs which can help PLCs plan activities around a theme. This communication program feature offers the opportunity to plan a month's worth of troop activities which focus on giving and receiving information.
Biker Gang Skit
I can't say there is any lesson to be learned from this biker gang skit other than don't forget to bring your tent. And no, this is not my impression of bikers, so don't write. Maybe you could start with some humor and then lead into a discussion about leadership.
Campfire Stories and Meeting Stories
Whether in a meeting or sitting around a campfire, stories bring us together. They connect us with the past also. Here you will find some campfire stories for kids. These are not scary, so they are appropriate for quieting down Cub Scouts before lights out.
Audience Participation – Stick Out Your Tongue and Touch Your Nose
A few years back we had a Cubmaster who really enjoyed audience participation segments. The cornier the better! This Stick Out Your Tongue and Touch Your Nose Audience Participation a classic along those lines. This would also work to help demonstrate the importance of clear communication when giving instructions.
Tiger Theater Adventure: Retired
(Note: BSA retired this adventure on May 31, 2022. This information remains here for historical purposes.) Tigers learn about some creative ways to communicate for the Tiger Theater Adventure. The Cub Scouts learn about puppet shows, reader's theater, and pantomime. They also put on a little show of their own and watch a play or attend a story time at a library.
Association with Adults – BSA Methods
Association with adults is one of the methods used in both Scouts BSA and Venturing. While these programs are youth-led, there are still adults present to mentor and help the youth leaders.
Magic Tricks and Stunts
Magic tricks and stunts add suspense and excitement to meetings and other Scout programs. What's your favorite magic act or stunt? Do you have a video of it? Contact me and I'll share it here.
We are sorry that this post was not useful for you!
Let us improve this post!
Tell us how we can improve this post?