Scouting programs spark an interest in culture, history, and art. Scouts learn about music, design, family history, other cultures, and American history. Cub Scouts, Scouts BSA (Boy Scouts), and Venturers learn to appreciate beauty, learn from the past, and discover new paths to creativity. See some examples below.
Tiger Stories in Shapes Adventure: Cub Scout Helps and Ideas
Stories in Shapes is one of the Tiger elective adventures. For this adventure, Tiger Cubs and their adult partners learn about art and explore their own creativity.
Webelos/AOL Maestro Adventure Helps and Documents
Maestro! is one of the Webelos/Arrow of Light elective adventures. For the Maestro! adventure, Webelos learn about music from singing songs to musical instruments.
Turn Back the Clock Cub Scout Theme (Resourcefulness)
A supplemental meeting plan theme called Turn Back the Clock was provided by BSA a few years ago. "When you look back in time, it is easy to find many examples of resourcefulness, using human and other resources to their fullest. Whether it is the Ice Age, the Wild West, the Space Age, or the 1950s, each time period had people with goals who used the resources available to them to make their lives better."
Living History Troop Program Feature for Scouts BSA
The Living History feature lets Scouts experience different cultures, times, and places in an interactive and hands on manner. They witness reenactments and learn about historical events and different ways of life.
Webelos/AOL Art Explosion Adventure: Cub Scout Helps and Ideas
Art Explosion is one of the Webelos/Arrow of Light elective adventures. For the Art Explosion adventure, Webelos learn about all types of art - drawing, painting, sculpture, origami, digital art, graphic design, photography, comics, and more.
Genealogy Requirements and Non Traditional Families
How do you do Cub Scout genealogy requirements when you have children from non-traditional families who may not know who their grandparents or even parents are?
Fearful Symmetry Cub Scout Nova Award (Mathematics) Helps and Documents
Fearful Symmetry is the Cub Scout Nova Award for investigating the properties of symmetry. To earn this award, Scouts must complete one of their adventure related to patterns and symmetry. They explore how symmetry is found in art and nature.
Family Tree Template
Helping Scouts look back at their family heritage fits in with the Turn Back the Time program theme. Scouts can download this family tree template to write in their family back to their great grandparents.
Historic Trails Program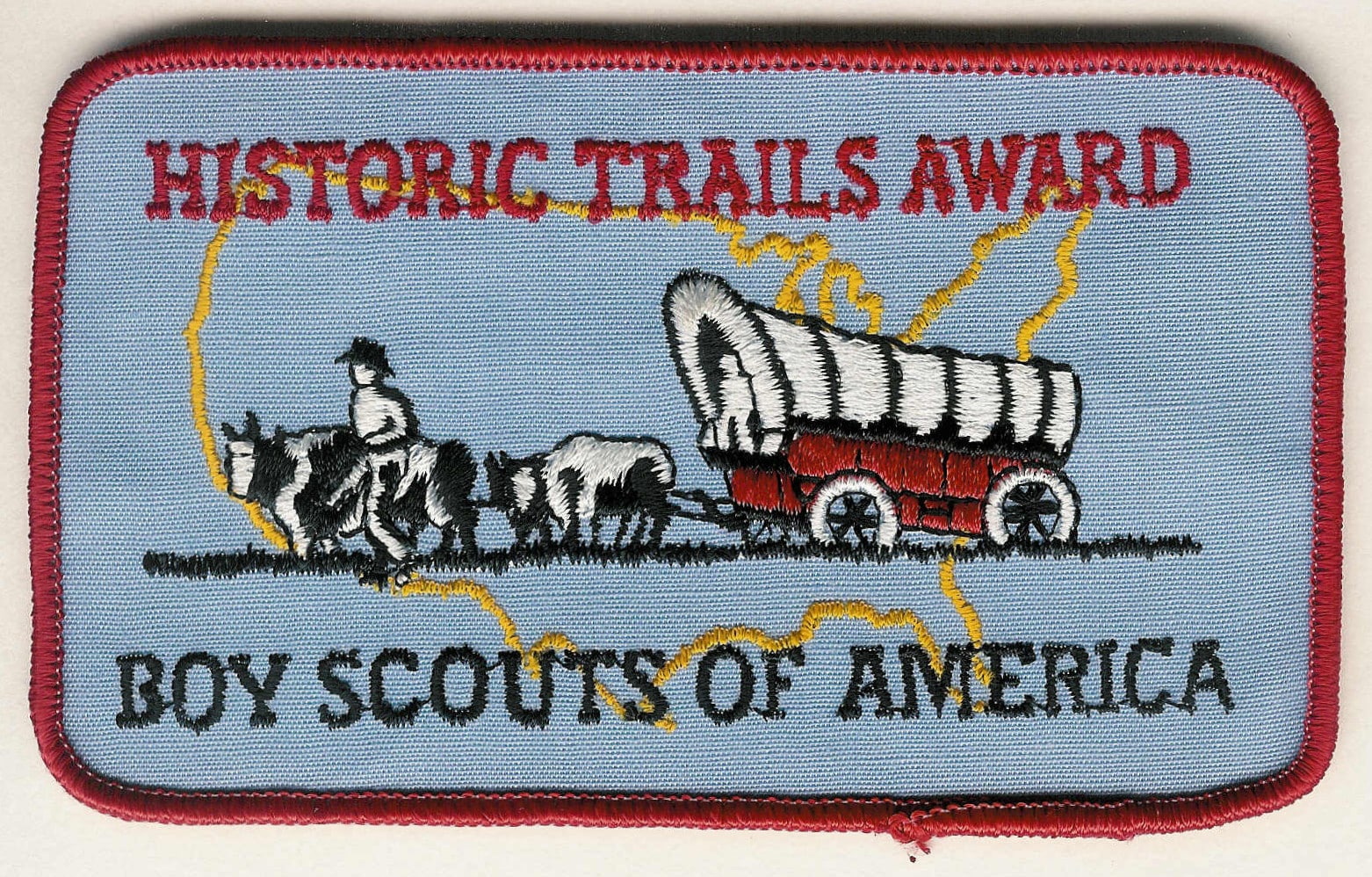 This award recognizes young men and women in Scouts BSA and Venturing who have planned and executed a historic outdoor activity in cooperation with a local society.
Native American Cub Scout Theme
Introducing Native American themes to Cub Scouts can be a way to teach our younger Scouts how to appreciate different cultures. It should be done in a respectful way which honors the traditions of the First Americans.
Crafts for Scouts
Crafts can be used to complete rank advancement requirements or just for fun. Crafts are especially important as a way for boys and girls in the Cub Scout program to express themselves and develop creativity. Do you have a craft that you'd like to share? Contact me and I'll share it here with a picture of your creation.
The Legend of Pecos Bill
Here is some information about Pecos Bill written at a Cub Scout reading level. After they read the story, talk about how tall tales incorporated real ideas.
The Legend of Bigfoot
Tall Tales was one of the activities my den enjoyed doing this past year. The only problem I had was finding versions of the tales which were appropriate for their age and reading levels.
Songs for Scouts
These songs for Scouts are a fun way to add some fun to a meeting or to get everyone involved in a campfire program. What's your favorite song? Do you have the lyrics or a video of it? Contact me and I'll share it here.
The Legend of Paul Bunyan
The story of the Paul Bunyan at a Cub Scout reading level . It includes a variety of tall tales from Paul Bunyan lore.
Faith and Our Ancestors Game
The Faith and Our Ancestors Game is an icebreaker activity with a genealogy twist. Players ask each other questions about how they think their ancestors lived.
Audience Participation – The Story of Paul Bunyan and Babe the Blue Ox
This an audience participation story about the cold winter when Paul Bunyan found Babe the Blue Ox. A few words and names are repeated throughout the story. Your audience will be divided into groups and assigned a word or name. Whenever they hear it, they must say something - loudly and with enthusiasm - and do an action. Cub Scouts usually enjoy these "action stories".
Project Family Adventure: Cub Scout Helps and Ideas
Project Family is one of the Webelos/Arrow of Light elective adventures. For the Project Family adventure, Webelos learn about family history and discover different ways they can participate as a family member.
Doctor Seuss Day
Dr. Seuss Day is a day to celebrate the birthday of Theodor Seuss Geisel, the wonderful books he wrote, and reading in general.
Thanksgiving Song
Here is a silly song for the Cub Scouts to sing on Thanksgiving. Use this for any of the Cub Scout music requirements
Tips for Starting a Collection
There are several Scouting achievements related to collecting. So how do you start a collection? Here are some tips to get started.
Tips for Coin Collectors from Scout Life Magazine
Scout Life magazine has some tips and tricks for new coin collectors. These tips will help you get started and become a collector in no time. And they will help you appreciate and understand your coins.
My Story Mystery Game
The My Story Mystery Game is a great way to get to know some "history" about a group of individuals. It makes a great icebreaker. It can also serve as an introduction to a discussion about oral history and storytelling.
Circle Art – A Simple Activity to Explore Art
This circle art project uses circles to create a mosaic based on circular shapes. All you need is card stock, cardboard, scissors, and contact paper. And maybe some circular items for tracing. 
Trivia for Youth on National Trivia Day
Trivia for youth is fun and January 4 is National Trivia Day. It celebrates all of those little bits of knowledge. Here are some sources to play trivia games with youth.
Tiger Tales Adventure: Cub Scout Helps and Ideas
(Note: BSA is retiring this adventure on May 31, 2022.) Tiger Tales is one of the Tiger elective adventures. For this adventure, Tigers and their adult partners learn about folk history through tall tales. They also visit a historical museum or site.
New Year's Day
On New Year's Day we remember the past year and look to the future. You probably aren't meeting on New Year's Day, but if you are meeting near this date you can add some time related activities for fun with these ideas.
Science Fiction Day
January 2 is Science Fiction Day. This day encourages everyone to pick up a science fiction book and immerse themselves in a new reality. Science fiction encourages us to consider that the world can be different than it is now - better or worse - and our actions will make an impact on the future. So read a book, sing a song or play a game saluting Star Wars or Star Trek. Some books, songs, and games are suggested in this article.
Tiger Theater Adventure: Cub Scout Helps and Ideas
(Note: BSA is retiring this adventure on May 31, 2022.) Tigers learn about some creative ways to communicate for the Tiger Theater Adventure. The Cub Scouts learn about puppet shows, reader's theater, and pantomime. They also put on a little show of their own and watch a play or attend a story time at a library.
We are sorry that this post was not useful for you!
Let us improve this post!
Tell us how we can improve this post?