A Scout is reverent toward God. He is faithful in his religious duties. She respects the beliefs of others. Find prayers and graces for use in your program below.
Want to share a favorite prayer or grace? Send it to me and I will share it.
Native American Prayer
Native American lore is an important part of the Scouts BSA and Cub Scout programs. This prayer is attributed to Chief Sealth (for whom Seattle is named).
Johnny Appleseed Grace (Song)
Duty to God is an important part of Scouting, so don't forget to say grace at Scouting events. This is a non-denominational grace which would be appropriate at any meal.
Philmont Grace
This grace is also known as the Wilderness Grace or the Worth Ranch Grace. It is attributed to Jerry Fulkerson from the Worth Ranch Scout Camp in Texas.
A Scout's Prayer by Lord Baden-Powell
This prayer is attributed to Lord Baden-Powell himself. B-P clearly believed that faith was an important component of his Scouting program. So while Scouting is not specific to any particular faith, there is a spiritual aspect to it. This prayer, based on the Scout Law, would be appropriate for most groups of Scouts.
S bar F Scout Ranch Grace
Our council has several properties, but the one most Scouts BSA attend for summer camp is S bar F Scout Ranch. This is the S bar F Ranch grace.
Prayer of Saint Francis (Peace Prayer)
Today I'd like to share a prayer with you which reflects a message of peace.
Memorial Day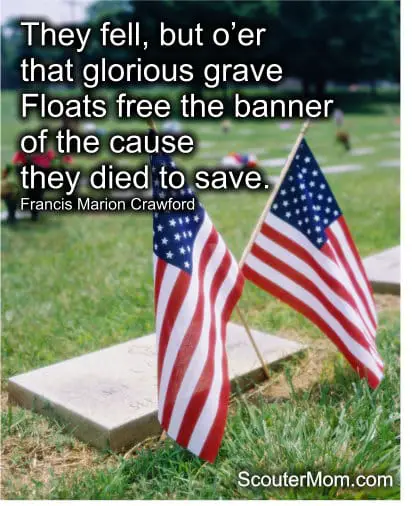 Today we honor those who paid the ultimate price for our freedom. This poem by American author Francis Marion Crawford would make an excellent reading for any Memorial Day ceremony.
Edelweiss Grace
A Scout is Reverent.  So don't forget grace before meals. There are many grace songs which are appropriate for Scouts and they work well if not all of your group shares the same faith background. This grace is sung to the tune of  Edelweiss. If you don't know it, you need to watch Sound of Music.
Prayer for Blue and Gold Banquet
Rev. Jim sent in this question: "I was asked for do prayers for two cub scout packs for their Blue and Gold ceremony o the Crossover. where would I find appropriate Prayers. Thank you." Thanks for the question, Rev. Jim. Since Cub Scouts should be familiar with the Scout Law,  I suggest you use a prayer based on it.
Scout Law Prayer
A Scout is Reverent. This prayer incorporates the twelve points of the Scout Law.
Auld Lang Syne Grace
Here's a grace which is sung to the tune of Auld Lang Syne. This makes a really wonderful Thanksgiving grace. Or it would be a good addition to a Scout's Own prayer service.
God Is Great Grace (Rock Around the Clock)
Singing a grace is a nice way to remember that "A Scout Is Reverent" when you are out at camp this summer. At our local Cub Scout camp, packs take turns volunteering to lead grace in the dining hall.  Teaching them grace as a song will help five or six of them get up and do it together.
Addams Family Grace (Song)
This favorite Cub Scout grace is a song. The tune is the theme of the Addams Family show. (Hence the name.)
Reader Interactions