A Scouts BSA Troop is actually run by its youth leaders. The Scoutmaster and adults on the Troop Committee provide advice and resources to help the youth carry out their program.
Find helps and ideas for your youth leadership and the adults who support them below:
What Is a Scouts BSA Troop Committee?
In a troop committee, committee members provide the support and resources which the youth leaders of the troop need to carry out their ideas.
Defining and Prioritizing Scouts BSA Youth Leadership Positions
Setting clear expectations for the youth leadership positions in a troop helps the youth members set goals. Some troops might also benefit from prioritizing the order positions are filled.
Assistant Patrol Leader Description and Self Evaluation
The Assistant Patrol Leader is a youth member of a Scouts BSA Troop who is appointed by the Patrol Leader and leads the patrol in his absence. The position of Assistant Patrol Leader does not qualify for the leadership requirements for advancement. (See the leadership positions listed in the Star, Life, and Eagle requirements in the Scouts BSA handbook.)
Introduction to Youth Leadership Skills (ILSC or ILST)
This weekend our Venturing Crew did the Introduction to Youth Leadership Skills for Crews (ILSC). This course teaches Crew members basic leadership skills. There is a corresponding course for Scouts BSA Troops (ILST).
Den Chief Description and Self Evaluation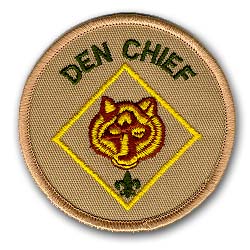 The Den Chief is a Scout who works with the Cub Scouts, Webelos Scouts, and den leaders in the Cub Scout pack. They can lead games, participate in discussions, help with Scout skills, and more.
Junior Assistant Scoutmaster Description and Self Evaluation
The Junior Assistant Scoutmaster is a youth member of a Scouts BSA Troop who serves in the capacity of an Assistant Scoutmaster except where legal age and maturity are required. He must be at least 16 years old and not yet 18. He is appointed by the Scoutmaster because of his demonstrated leadership ability.
Bugler Description and Self Evaluation
The Bugler plays the bugle at troop ceremonies. Bugler is one of those positions that many troops don't fill. There was a troop next to us at the last camporee with a Bugler, and there is something really nice about hearing Taps played at lights out.
Librarian Description and Self Evaluation
Most Scouts BSA Troops keep a library of merit badge pamphlets and other resources. The Librarian is a youth member of the troop who takes care of this troop literature.
Book Review: Beginning Boy Scouts
I recently received a copy of Beginning Boy Scouts by Jeremy and Heather Reed. The subtitle is "An unofficial practical guide to Boy Scouts for parents and new leaders." And that describes the book perfectly. If you know somebody who is new to the Scouts BSA program, then this would be a great resource to give them an overview of the program. Note that this book only covers the Scouts BSA program, not Cub Scouts or Venturing. Also the name reflects that it was written before the Boy Scout program name changed, but the information all still applies.
Book Review: Developing Teen Leadership
I was recently asked to review a book on teen leadership. The book is called Developing Teen Leadership: A Practical Guide for Youth Group Advisors, Teachers and Parents. It is written by Dan Appleman who has 20 years of experience working with youth.
Attendance Expectations for Scouts BSA
You might notice that the troop leadership position descriptions which our troop uses have attendance expectations on them Some people have asked me how we enforce these. Well, we do not. These are not demands or requirements in our troop. Instead we use them to indicate to the youth what sort of time requirements are typical for the position.
Patrol Activities in a Scouts BSA Troop
One thing we'd like our youth leadership to consider is patrol activities. We have a pretty active troop program, but the patrols never do anything on their own. They could hike or get together to work on a requirement or even go on a campout.
OA Troop Representative Description and Self Evaluation
An Order of the Arrow Troop Representative is a youth liaison between the local OA lodge or chapter and his troop. In his troop, he serves the Arrowman as well as adult leaders and Scouts who are not OA members. He encourages Arrowmen to participate in lodge and chapter events. He also works to strengthen the troop's camping program.
Troop Guide Description and Self Evaluation
Troop Guide is another important youth leadership position in a Scouts BSA Troop. A troop guide is an older scout who helps new scouts learn the "Boy Scout way" of doing things, which is much different from the "Cub Scout way" of doing things.
Quartermaster Description and Self Evaluation
Camping is an integral part of the Scouts BSA program and most troops have a good amount of camping gear to maintain. The Quartermaster is a youth member of the troop who keeps track of troop equipment and sees that it is in good working order.
Scouting's Teaching EDGE (BSA Edge Method)
The latest Scouts BSA requirements for Tenderfoot and Life ranks require the Scout to use the EDGE method. This is a four step method for teaching a skill. It is sometimes called Scouting's Teaching EDGE.
Scribe Description and Self Evaluation
Almost every organization needs somebody to keep records. A Scouts BSA Troop is no exception. The Scribe is a youth member of the troop who records the minutes of the Patrol Leaders' Council (PLC) and works with the Troop Committee Secretary and Advancement Chair.
Problem – Scouters Too Involved in Meetings
The adults involved are very enthusiastic, which is great, but they tend to talk over the kids and take over the meetings. Some of the adults are keeping the kids form running the meetings successfully.
Troop Youth Leadership Seminar
We are particularly encouraging all of the new youth leaders to attend, but the seminar will be open to the whole troop. Hopefully some of the members will be inspired to apply for one of the open positions.
How Can You Have a Youth Led Troop When the Scouts Are All New?
A reader asks about being youth-led when all of the Scouts have no previous experience. "The girls have tried, but without experienced scouts in leadership positions to model how to plan a scouting year, run troop meetings or plan a trip, and troop trainers to instruct new scouts in camping skills, like established troops have, things have come to a stand still. "
Den Chief Service Award
The Den Chief Service Award recognizes Scouts and Venturers who serve a Cub Scout den for one year, are trained, and are active members of their Troop or Crew. The award is a red, white, and blue cord, which is worn on the left shoulder under the epaulet. A certificate is also available.
Reader Interactions