Second Class requirement 2 is related to cooking and outdoor skills. Scouts learn how to prepare a fire, cook outdoors, safely prepare and store foods, and tie some knots.
2a. Explain when it is appropriate to use a fire for cooking or other purposes and when it would not be appropriate to do so.
2b. Use the tools listed in Tenderfoot requirement 3d to prepare tinder, kindling, and fuel wood for a cooking fire.
2c. At an approved outdoor location and time, use the tinder, kindling, and fuel wood from Second Class requirement
2b to demonstrate how to build a fire. Unless prohibited by local fire restrictions, light the fire. After allowing the flames to burn safely for at least two minutes, safely extinguish the flames with minimal impact to the fire site.
2d. Explain when it is appropriate to use a lightweight stove and when it is appropriate to use a propane stove. Set up a lightweight stove or propane stove. Unless prohibited by local fire restrictions, light the stove. Describe the safety procedures for using these types of stoves.
2e. On one campout, plan and cook one hot breakfast or lunch, selecting foods from MyPlate or the current USDA nutritional model. Explain the importance of good nutrition. Demonstrate how to transport, store, and prepare the foods you selected.
2f. Demonstrate tying the sheet bend knot. Describe a situation in which you would use this knot.
2g. Demonstrate tying the bowline knot. Describe a situation in which you would use this knot.
Helps for this requirement are listed below
Totin' Chip Certification
A Scout who completes the requirement for the Totin' Chip certification shows that he or she has the knowledge and skills to safely handle wood tools, such as an ax, hatchet, pocketknife, or hand saw.
Dutch Oven Cooking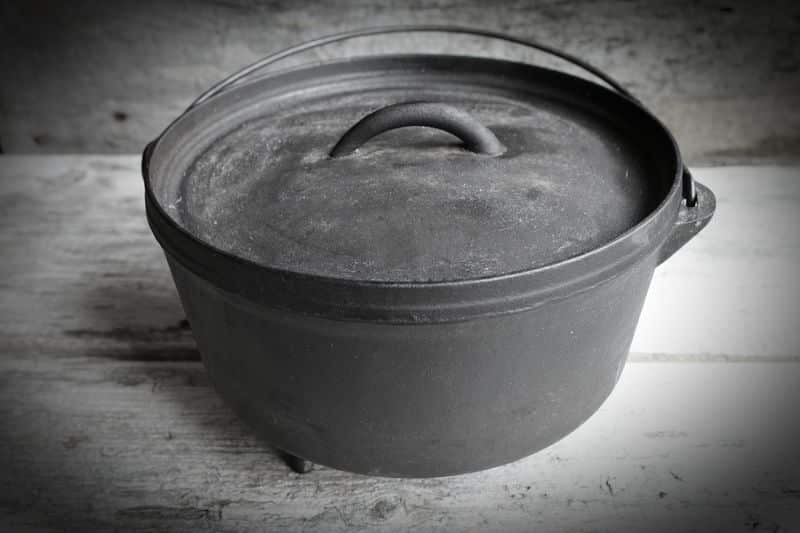 Dutch oven cooking is one of my favorite ways to make meals and desserts at camp. Put the ingredients in, put some charcoal on the top and bottom, come back later, and voila! you have a delicious dish. Do you have a Dutch oven recipe you'd like to share? Contact me and I'll share it.
Foil Pack Dinners
The most typical foil pack ingredients are ground beef, potatoes, carrots, and onions. But don't get stuck in a rut! Try some new combinations.
Cooking Troop Program Feature for Scouts BSA
The Cooking feature teaches Scouts how to make their favorite food and discover new recipes for use at home and at camp. Scouts learn the satisfaction of preparing their own meals.
Dutch Oven Breakfast Quiche
This Dutch oven breakfast quiche is an easy camp breakfast recipe for those who enjoy some eggs in the morning. I really enjoy Dutch oven recipes at camp because you can put all of your ingredients in and relax while it cooks. And relaxing and enjoying the moment is part of what really makes camping great.
Mountain Man Breakfast Casserole Recipe
Mountain Man Breakfast Casserole is a hearty breakfast recipe with meat, eggs, and hashbrowns. This recipe includes instructions for cooking outdoors with charcoal and indoors in an oven.
The Science of Fire – The Fire Triangle
Knowledge of fire safety and the fire triangle is an essential outdoor skill. Scouts should understand the science of fire when camping.  Newer scouts often struggle to get a fire going. Understanding the way fire works and what is required to start and sustain a fire not only helps them build fires. It also helps scouts know how to contain fires and put them out.
Wilderness Survival Troop Program Feature for Scouts BSA
The Wilderness Survival program feature helps Scouts learn how to stay safe, warm, and dry when the unexpected happens during an outdoor adventure.
Firem'n Chit Certification
Scouts BSA are going to build fires. That is pretty much a given. So they should be trained to use fire safely. This BSA certification provides a set of rules which can be used for training with Scouts. A pocket card is also available at your local Scout shop, to indicate that the Scout has completed the training and agrees to the rules.
Scouts BSA Second Class Rank Helps and Documents
Second Class is the rank a Scout can earn after Tenderfoot. The requirements for Second Class continue to teach the youth to the skills needed to advance in Scouts BSA.
Easy Recipes for Camp Cooking
Camp cooking can offer some challenges, but it can also be very rewarding. Many people stick to hotdogs and hamburgers at camp. But it is easy and fun to get a little more creative. So here are some recipes to put in your camping cookbook.
Woodgas Camp Stove Review
This is a self contained camp stove which burns twigs, charcoal, wood pellets, etc. It has a small battery powered fan to draw air.
What Is a Fuzz Stick and How Do You Make One?
A fuzz stick is a fire starting aid and a good way to practice knife skills. A fuzz stick is a stick which has been shaved on the side, leaving thin scraps of wood. These scraps catch fire easily, which helps get your fire going.
Disposing of Dishwater at Camp
Scouts should know how to dispose of water which has been used for cleaning dishes, which is also known as gray water. One easy way to strain dishwater is to use a plastic grocery bag.
How to Build a Fire Skit
Skits can be a great way to start an instruction program. They get everyone's attention focused. I saw this How to Build a Fire skit at a camporee, but it would also work as an introduction to a session on fire building
Help for Grubmasters
Now that our troop is encouraging more scouts to be grubmasters, a common response is "But I don't know what to do!". So I put together a set of very basic instructions to help them out. This is at least enough to get them started.
Camping Troop Program Feature for Scouts BSA
The Camping program feature teaches Scouts helps Scouts experience the fun and adventure of camp life. Theses camping program ideas include some general information and some more specific ideas for meetings