The Tenderfoot Scout spirit requirements provide an opportunity for a Scout to show how he puts the Scout Oath and Law into action in his everyday life. He will talk to his Scoutmaster and complete a Board of Review to complete the requirements for Tenderfoot.
Demonstrate Scout spirit by living the Scout Oath and Scout Law. Tell how you have done your duty to God and how you have lived four different points of the Scout Law in your everyday life.
While working toward the Tenderfoot rank, and after completing Scout rank requirement 7, participate in a Scoutmaster conference.
Successfully complete your board of review for the Tenderfoot rank.
See helps for these requirements below.
What Is Scout Spirit?
Scout spirit is mentioned in several of the requirements for Scouts BSA ranks. But what is Scout spirit and how does a Scout go about demonstrating it?
Board of Review Questions
Reader Shelley asked "I'm a new Troop Committee Chair and was wondering if anyone has some great questions that they ask their Scouts during their Board of Reviews?" Sometimes committee members struggle to come up with good Board of Review questions.
What Is a Board of Review?
When a Scout has completed all of the requirements for a rank, he must appear before a board of review. A board of review is NOT the same as a Scoutmaster Conference but just with more people.
Scout Law
I like the simplicity of the Scout Law. It is brief and therefore easy for youth to memorize. But it covers a lot of ground.
Scouts BSA Tenderfoot Rank Helps and Documents
Tenderfoot is the rank a Scout can earn after Scout. The requirements for Tenderfoot introduce the youth to the skills he or she needs to get started in Scouts BSA.
Waiting for a Board of Review
A reader's son has been asked to wait two months for his board of review. This does seem like a long delay for rank advancement.
Scoutmaster Conference – Adding Requirements
During a Scoutmaster conference for the rank of Life, a Scoutmaster is requiring a Scout to answer questions from earlier ranks and merit badges, erect a tent, fold a tarp without wrinkles, keep track of paperwork and badges, plus other things. But a Scoutmaster may not add or take away requirements for advancement.
Scheduling a Scout Board of Review
Can a troop place requirements on how a Board of Review must be requested? For example, can a troop require that the Scout request the BOR by phone rather than in person?
Book Review: Beginning Boy Scouts

I recently received a copy of Beginning Boy Scouts by Jeremy and Heather Reed. The subtitle is "An unofficial practical guide to Boy Scouts for parents and new leaders." And that describes the book perfectly. If you know somebody who is new to the Scouts BSA program, then this would be a great resource to give them an overview of the program. Note that this book only covers the Scouts BSA program, not Cub Scouts or Venturing. Also the name reflects that it was written before the Boy Scout program name changed, but the information all still applies.
BSA Methods – Uniform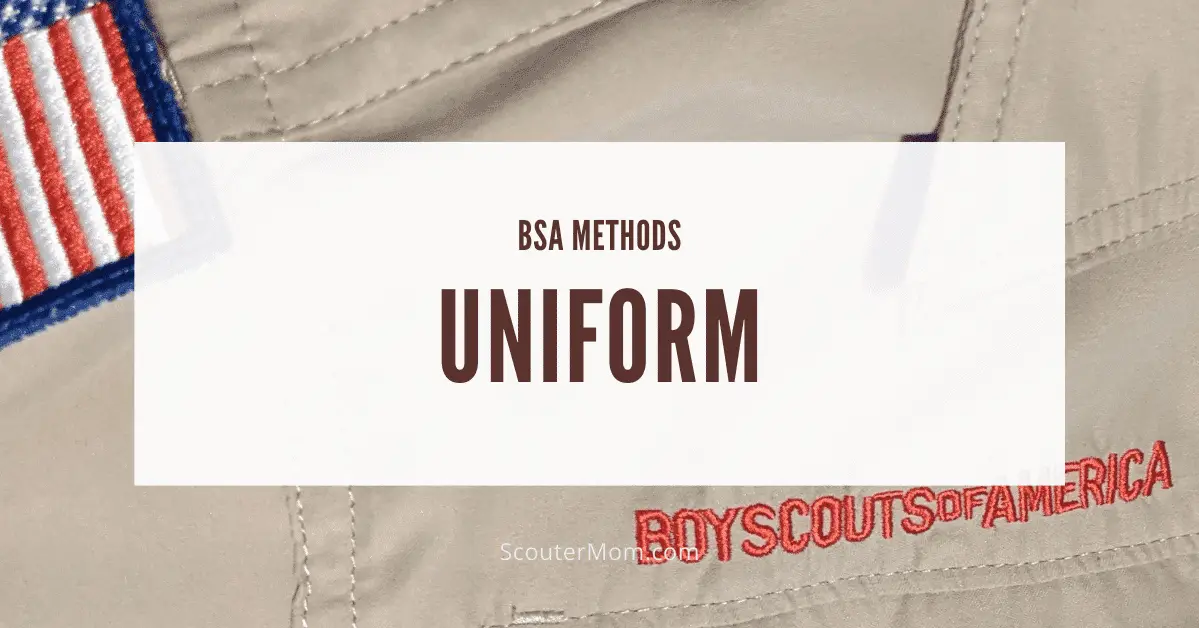 Wearing a uniform identifies youth as Scouts BSA. It give them a sense of belonging to a group. The Scout uniform is associated with the ideals of Scouting.
What Is a Scoutmaster Conference?
One thing which sometimes throws new Scouts (and their parents) off guard is the Scoutmaster Conference. What in the world is a Scoutmaster Conference? Am I going to have to tie knots? What if I get nervous and forget how?!!!