Tenderfoot requirement 2 focuses on camp cooking:
On the campout, assist in preparing one of the meals. Tell why it is important for each patrol member to share in meal preparation and cleanup.
While on a campout, demonstrate the appropriate method of safely cleaning items used to prepare, serve, and eat a meal.
Explain the importance of eating together as a patrol.
Find helps for this requirement below.
Dutch Oven Cooking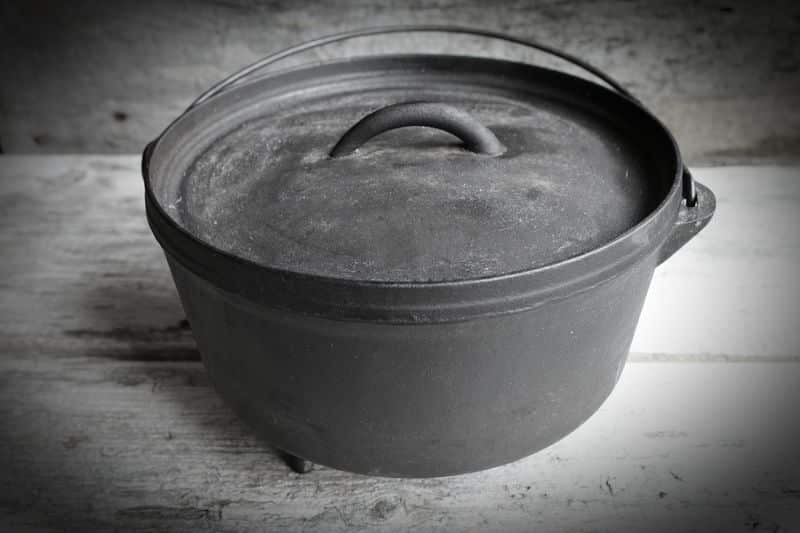 Dutch oven cooking is one of my favorite ways to make meals and desserts at camp. Put the ingredients in, put some charcoal on the top and bottom, come back later, and voila! you have a delicious dish. Do you have a Dutch oven recipe you'd like to share? Contact me and I'll share it.
Foil Pack Dinners
The most typical foil pack ingredients are ground beef, potatoes, carrots, and onions. But don't get stuck in a rut! Try some new combinations.
Cooking Troop Program Feature for Scouts BSA
The Cooking feature teaches Scouts how to make their favorite food and discover new recipes for use at home and at camp. Scouts learn the satisfaction of preparing their own meals.
Dutch Oven Breakfast Quiche
This Dutch oven breakfast quiche is an easy camp breakfast recipe for those who enjoy some eggs in the morning. I really enjoy Dutch oven recipes at camp because you can put all of your ingredients in and relax while it cooks. And relaxing and enjoying the moment is part of what really makes camping great.
Scouts BSA Tenderfoot Rank Helps and Documents
Tenderfoot is the rank a Scout can earn after Scout. The requirements for Tenderfoot introduce the youth to the skills he or she needs to get started in Scouts BSA.
Mountain Man Breakfast Casserole Recipe
Mountain Man Breakfast Casserole is a hearty breakfast recipe with meat, eggs, and hashbrowns. This recipe includes instructions for cooking outdoors with charcoal and indoors in an oven.
Official Grubmaster Apron
Do you know a excellent camp cook? Let them show their chef's pride with this apron! This apron reads Official Grubmaster
Easy Recipes for Camp Cooking
Camp cooking can offer some challenges, but it can also be very rewarding. Many people stick to hotdogs and hamburgers at camp. But it is easy and fun to get a little more creative. So here are some recipes to put in your camping cookbook.
Official Grubmaster Coffee Mug
Perfect for the camp cook!  This coffee mug reads Official Grubmaster
Camping Checklist for Scouts
When preparing for a campout, one of the most common questions from less experienced campers is "What should I bring?" This article from Boy's Life magazine is a good list of must haves for that campout.
Woodgas Camp Stove Review
This is a self contained camp stove which burns twigs, charcoal, wood pellets, etc. It has a small battery powered fan to draw air.
Backpacking Troop Program Feature
This backpacking program feature offers the opportunity to learn more about hiking and low impact camping. A Scouts BSA Troop PLC can plan a whole month of activities incorporating a backpacking theme.
Camping Troop Program Feature for Scouts BSA
The Camping program feature teaches Scouts helps Scouts experience the fun and adventure of camp life. Theses camping program ideas include some general information and some more specific ideas for meetings
Help for Grubmasters
Now that our troop is encouraging more scouts to be grubmasters, a common response is "But I don't know what to do!". So I put together a set of very basic instructions to help them out. This is at least enough to get them started.