I hope all of you Scouters out there are able to complete your Nap on Safely training during summer camp. Show that you have completed your training with these "Nap on Safely" business cards.
This is a spoof of BSA training cards. Use these for your own joke training session or create your own Scoutmaster or Scout unit "business" cards with your contact information. The text on the back can be customized to meet your own needs.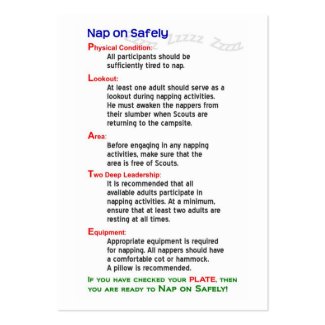 "Nap on Safety" Training Cards
by
ScouterMom
Fulfill your
business card order
at zazzle.com.